Hello people, i will try to make something here. First of all, sorry for my english, you know how bad i am on it.
So, i will try to make a remodel of the tradicional sentry, my idea is simple: Sentries act like some kind of plant; they stay in the same place, grow, react and need some care. My entry is a small sentry wich became more strong and powerfull (artisticaly, since it´s the goal of this contest) growing.
The theme is the TF2 itself, im making buildings based on nature of the farm. I will try to make a new view of the old things by the creative engineer.
CLASS: ENGINEER
Theme: Floral Defense
IDEA (not considered for the contest anyway XD):
More health(due his shield)
Less damage
Ruin the accuracy of players hitted.
FINAL VERSION
:
Here we go..the final video of Lucycharm, showing animations, gibs, sounds...as you wanted!
[ame]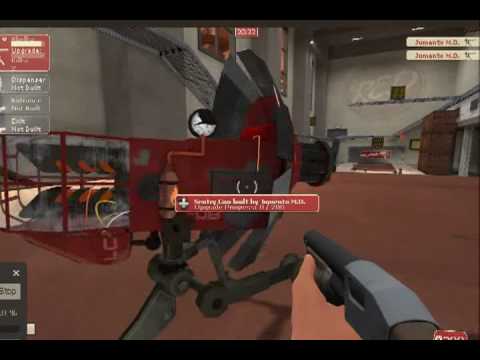 By Satoshi54
The texas way to take care of a violent mecanic plant.
: LucyCharm
Im not good at drawing, but here you have the basics of the level 1:
ALSO WORKING ON A DISPENSER!!! Almost done..im finishing up the animations!!! Go to the last pages to know more!
Soon, a teleporter to close the pack!