Latest ~
He's finally done. This was by far and away my most ambitious project I've ever attempted. I'm spent haha, time for a little break! Huge thanks to everyone who commented, all the critiques, and everyone who came to chill on twitch, it all helped a huge amount. I doubt i would have seen this through without the feedback I got.
I made a fun little vid using toolbag 3's new animation stuff, you can catch that here -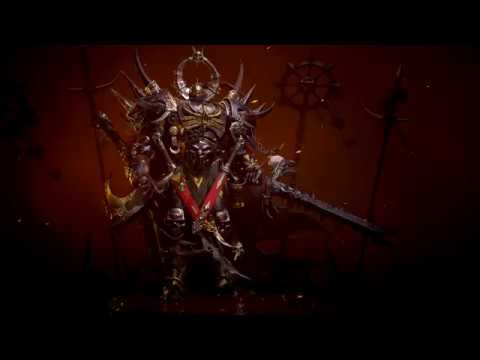 https://www.youtube.com/watch?v=rWTLEsCk1iA
And as always there's more pics on Artstation -
https://www.artstation.com/artwork/z6yN6
-------------
So this is a pretty huge project for me personally. Ever since i saw this piece by Adrian smith years ago i always wanted to make it but i knew i couldn't do it justice. Now i'm finally ready to bite the bullet and see if i can nail this.
Here's the concept, the single most badass piece of warhammer art there ever was
And here's where i'm at. Super early days yet but i want to get the thread rolling. Obviously the proportions of this guy are pretty insane but once the armor is on there it makes a lot more sense. I didn't spend too long on the anatomy as it's going to be mostly covered anyway, right now i'm trying to make sure everything fits and it all lines up with the concept. I'm just eyeballing it, i didn't bother to draw any orthos.
Feel free to crit it to death, even at this stage. I want this to be absolutely the best i can do
Anatomy crits on the arms are especially welcome as they will be partially uncovered in the final.
Thanks for looking!