Welcome to this thread
BA & MA 3D Games Art & Design - (BA) with Optional Sandwich Placement/ Study Abroad
https://www.herts.ac.uk/courses/3d-games-art-and-design
2022 Showreel - BA (Hons) 3D Games Art & Design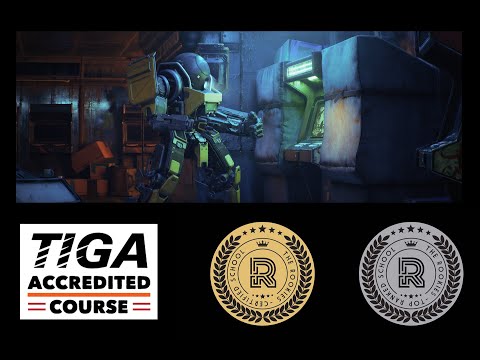 https://www.youtube.com/watch?v=0AEOD1dxWow

Neil Gallagher, Award Leader for BA & MA Games Art. The video below is to help any students that are thinking off applying to BA Games Art, on this channel there is also advice for 
3D Animation
, 
2D Animation
 and 
VFX
. The work in the video are examples from student applicants that are currently on the course. Good luck and feel free to PM me if you have any questions.
This showreel contains work from all of the the University Of Hertfordshire digital animation programmes Bachelor of Arts degree strands: BA 2D & 3D Animation // VFX and Games Art
And here is the MA Games Art showreel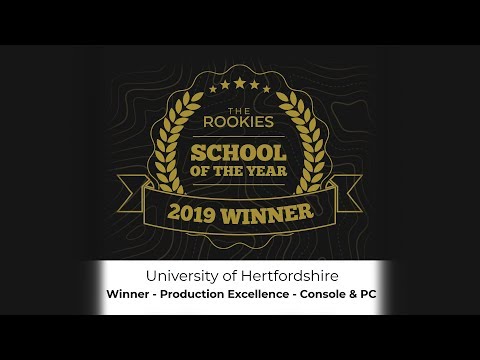 https://www.youtube.com/watch?v=_Hp9_NSiPTg&feature=emb_title
TIGA Awards,
 Best Educational Institution Award 2019
The Rookies Awards
List of 2019 Awards
Winner - Game Design & Development Schools - Production Excellence 2019
TIGA - Best Educational Institution 2019
The Rookies List
The Rookies Project Results for 2019
Game of the Year:
Winner: Spire https://www.therookies.co/entries/3375
Runner up: Project Star Bounty https://www.therookies.co/entries/1216
Visual Effects Film of the Year:
Winner: Downfall https://www.therookies.co/entries/2133
Motion Graphics:
People choice: Diana Verba: https://www.therookies.co/entries/2088
Visual Effect Internship (Europe):
People choice: Maria Tsanti https://www.therookies.co/entries/2150
VFS - Educational Scholarship Winner: William Jaravaza
https://www.therookies.co/entries/1996
3D Motion Graphics – Studio Internships Sarofsky United States People's Choice: Diana Verba
https://www.therookies.co/contests/38
Why Herts?
One of the best art schools in the World (Rookies World School Rankings® 2019)
Ranked 8 in Best Game Design Schools in the World (top UK school) (Rookies World School Rankings® 2019)
Ranked 7 in Best Visual Effects Schools in the World (top in UK) (Rookies World School Rankings® 2019)
Ranked 7 in Best Animation Schools in the World (top in UK) (Rookies World School Rankings® 2019)
Ranked 5 in Top 2D Animation Schools for Production Excellence (top in UK) (Rookies World School Rankings® 2019)
Ranked 3 in Immersive Media – Games Design & Development for Production Excellence (Rookies World School Rankings® 2019)
Ranked 2 in Top Visual Effects Schools for Production Excellence (top in UK) (Rookies World School Rankings® 2019)
Ranked 1 in Console & PC – Games Design & Development for Production Excellence (Rookies World School Rankings® 2019)
BA Courses, there are lots more creative courses on offer, these are the courses under the animation group.
BA (Hons) 2D Digital Animation | 
http://www.herts.ac.uk/courses/2d-animation-and-character-for-digital-media
BA (Hons) Games Art | 
http://www.herts.ac.uk/courses/3d-games-art-and-design
BA (Hons) 3D Digital Animation | 
http://www.herts.ac.uk/courses/3d-computer-animation-and-modelling
BA (Hons) Visual Effects | 
http://www.herts.ac.uk/courses/visual-effects-for-film-and-television
MA and PhD, click here for more details
This is our home, The Film Music and Media Building, the animation courses have the middle floor.
An article in 3Dworld magazine rating us as one of the best courses in the world to study 3D
Any questions then PM me, Neil Gallagher, Programme Leader, BA & MA 3D Animation and Games Art
And here are the course details.
http://www.herts.ac.uk/courses/3D-Games-Art.cfm
If you would like to talk to our students in person then you can post here on our student forum.
www.3dhit.co.uk
Social sites are run by UH Alumni with some tutor input:

You Tube- http://www.youtube.com/user/uhanimation

Vimeo - http://www.vimeo.com/uhanimation

Twitter - http://twitter.com/#!/uhanimation

Facebook - http://www.facebook.com/uhanimation
The Games Art course has a strong emphasis on the study of software tools and teaches all the cutting edge software you need to get into the industry: Maya, 3DSMax, Zbrush, Mudbox, Photoshop and many more and uses both the Unreal engine and the Crysis engine to enable students to gain access to all the professional tools needed in the industry.
The course explores digital modelling of characters and environments, and helps students to develop animation as well as shader techniques and level creation. You will be taught to create optimised geometry and textures and apply them to game engines, gaining an understanding of the technological restrictions of realtime 3D graphics. Also high to low resolution surface transfer modelling is taught as well as producing high resolution models for promotional material.
The main emphasis of the course is on the student becoming a "Games Artist" so a full day of study during the duration of the course has been allocated to life drawing and clay modelling to help develop a rounded portfolio as well as having live visits from Scott Eaton and Jeni Fairey from Madame Tussauds. So even if you start from a more technical back ground you will be taught the fundamentals of art, composition, colour theory and much more which are essential to gaining employment in the Games Industry.
The first year is like a foundation course where you have a taster of all the BA digital animation courses which are 3D, VFX, 2D and Games Art before choosing your specialization.
We have many open days during the year so feel free to come and look around our state of the art University that teaches twenty seven thousand students per year, has a £40 million night club and dining area, swimming pool, climbing wall, gym and over a thousand societies waiting for you to join - so if you like canoeing, walking, going to the cinema or playing the didgeridoo, there is always a club for you.
The University of Hertfordshire is 20 minutes by train from London's "Kings Cross Station" and three stops on the underground to the Buzzing Soho industry where Sony Computer Entertainment Europe has its headquarters. By car it's just off the A1 and 20 minutes drive from the M25
http://maps.google.co.uk/maps?hl=en&tab=wl
Testimonials
Aidan Gibbons, CG Lead & Mill+ Director, The Mill London
"The University of Hertfordshire's Visual Effects work really impressed us on the live projects we ran with them; we feel that their students are the ones to watch at graduation time."
Hans Bacher, Art Director | Disney
"Great student films, and a great showreel! you have some very talented students".
http://www.disneyanimation.com/
Ian Yarwood-Lovett | Franchise Art Director | Microsoft Games Studio
"Visiting the UHanimation course was a real eye opener for me; the quality of work produced coupled with the enthusiasm of the students makes this course one we'll be watching very closely in the future."
John Laws | Head of Art | Frontier
"UH is one of the few Universities teaching the correct fundamental skills required by the games industry, you have the right mix of traditional theory and cutting edge digital art creation, and understand that the tech is a tool rather than the end in itself. I'm impressed."
Jolyon Webb | Senior Art Director | Natural Motion
"We found the University of Hertfordshire students well-informed and focused; we were impressed with what we saw."
Louise Ridgeway | Head of Animation | Rare Ltd | Microsoft Games Studio
"They are one of the top universities for the industry at the moment, with another outstanding show of effort and commitment by a great bunch of enthusiastic students and staff."
Paul Gaboury 3D Product Development Manager Pixologic Inc
"The student work coming out of University of Hertfordshire is studio ready. Just watch the showreel and you'll see how talented the students are at this school. I always enjoy seeing what the students at the University are creating with ZBrush and are always blown away by the top notch quality."
Shelley Page, Dreamworks.
"The animation students I met at Hertfordshire were both talented and articulate with some very good work - and I'm looking forward very much to seeing the completed final projects this year"
http://www.dreamworksanimation.com/
Tara Saunders | Studio Art Manager | Sony Computer Entertainment | London Studio'
"The University of Hertfordshire has provided our studio with some talented graduates in recent years. It's definitely one of the courses to watch for upcoming talent"
http://www.scee.presscentre.com/
We have two gyms
Companies setup by UH grads
http://rewind.co/
http://www.thepondstudio.com/
http://nadom.co.uk/
http://rendernow.co.uk/home-version-2/quote/
https://vimeo.com/overthrowmotion
http://www.aniboxx.com/
http://www.villainswearblack.com/
http://squareedge.co.uk/
http://www.graphicsbyjack.com/
---
The Digital Animation Programme has particularly close links with Epic, Microsoft Games Studios (Rare), Industrial Light and Magic, Blue Zoo, Framestore, Double Negative, Random 42, REWIND, Playground Games and Graduates are employed at the below list of companies: 
Games: 
Activision (Shanghai), Activision (UK), Airship Images, Apache Solutions Ltd, APPSGO, Archetype Studios, Automaton Games, Babel Media, Batavian Studio, Beatnik Games, Bioware, Blitz Games, Blue Byte, Bohemia Interactive Simulations, Calvino Noir, Camelot, CCP, CD Projekt Red, The Chinese Room, Climax, Cloud Imperium Games, Creative Assembly, Crytek UK, Dambuster Studios, Deep Silver Studios, Digi-Guys, Digital Extremes, Dovetail Games, DR Studios, Dreampainters SRL, Elastic Games, Electronic Arts, Epic Games, Eurocom, Eutechnyx Ltd, Exient, FortuneFish Ltd, FreestyleGames, Frontier, Frozenbyte, Full Fat Games, Future Games of London, Gaming Realms, Gamesys, Geomerics, Geonomics, Glowmade, Goodboy Digital, Goodgame Studios, Gram Games, Gusto Games, Headstrong Games, Heavy Spectrum, Hello Games, Hothouse Creations, Idle Creations, If You Can, Ignition London, Imaginati Studios, Improbable, Interior Night (INT./NIGHT), Jagex, Juice Games, Jules Ventures, Keen Games, King, Kuju, Machine Games, Mad Head Ltd, Massive Entertainment, Mediatonic Ltd, Midgar Studios, Mind Candy, Mojiworks, nDreams, Nektan, Nintendo, Nixxes Software BV, Outso, PaperSeven, PennyBox Games, Playdemic Ltd, PlayerThree Ltd, Playfish, Playground Games, Plumbee, Poly Assets United Inc, Preloaded, Psychotron, Radiant Worlds Ltd, Rare-Microsoft Games, Real Time Worlds, Rebellion Games, Related Designs, Reloaded Productions, Remedy Games, Remode, Rockstar North, Rocksteady Studios, Runawayplay, Seasun Games, Sega Europe, Simulspace, Slinky Pictures, Sony-London Studio, Sony-Cambridge Studio, Space Ape Games, Spiral House, Splash Damage, Square Enix, Studio Gobo, Supermassive Games, Super Punk Games, Sviper, Traveller's Tales, Twimler, Ubisoft (Canada), Ubisoft - BluByte (Germany), Ubisoft (Singapore), Ubisoft (Sweden), Virtuos, Wired Productions, Zoe Mode 
 
---------------------------------------------------------------------------------------------- 
3D, 2D and VFX industries : 
422 South, Aardman Animations, Absolute Post, Acheron Films, Activ8, Adastra Studios, AixSponza, A Large Evil Corporation, Alt.VFX, Altergaze VR, Analog, Ancha, Aniboxx, Animal Logic, Animascot, Animated Storyboards, Anthem Studios, Archipelago, Argon Effects, Atomic Arts, Atticus Finch, Axis Animation, AxisVFX, Azimuth Post Production, Baby Cow, Bacon, Bait Studio, Bandito, Bardel Entertainment, Base Black, BaseFX, BBC, Big Buoy, Big Red Button, Big Sky Studios, BinWeevils, Blac Ionica, Black Rabbit Agency Group, BlinkInk, BlueBolt, Blue Spill, Blue Zoo, Boombox, Boulder Media, Boutiq, Boxframe, The Brewery VFX, Brown Bag Films, Caboom, Carbon Digital, The Character Shop, CherryCherry, Cinesite, Clearhead, Click 3X, CNBC, Coffee and TV, CoolToons, Cult Toons, Cumi Ltd, Curl Stone Entertainment, Cutlass Productions Ltd, Cygnetise, Darkside Studios, Dead Pixels, Deluxe Digital Studios, Digi-Guys, The Digi Monsters, Digipost New Zealand, Digital Shoguns, Disney Production, DixonBaxi, Dot to Dot Productions, Double Negative, Drive Productions, The Edge Picture Company, EightVFX, The Elf Factory, Ekstasy, Electric Theatre Collective, The Endless Collective, Eye-D Creative, FableFX, Factory Fifteen, Finish, FireStep, Flickerpix, Fluid Pictures, The Foundry, Framestore, Freefolk, Freeformers, Frogtale Studios, Fun Square Productions, FutureDeluxe, Gener8, Gentle Giant Studios, Gentlemen Broncos, Ghost VFX, Giggle Garage, Glassworks, Glowfrog, Golden Wolf, Gnu Films, Happy Finish, HEROmation, Hi-ReS, Holovis, Hoxton Redsox, Huge Media, Illumination Mac Guff, The Imaginarium Studios, ImpossibleTV, Industrial Light and Magic, Infinite Frameworks, Infocandy, INITION, Inspidea, Iod Productions, ITV Creative, Jam Media, Jason Harding Productions, Jellyfish Pictures, Jim Henson's Creature Shop, Jules Ventures, Kavaleer Productions, Kazoo Creative, Keyframe Studios, Klood, KoffeeCup, Kuro Dragon, Ladybird Films, Laika, The Last Word, Les' Copaque, Lexhag, Lightfeel Sdn. Bhd, Liquid Productions, Lola Post Production Ltd, Lonelyleap, Lucasfilm, Lupus Films, Luxx Studios, Magikon Productions, Mainframe, Method Studios, MFX, Mikros Image, Milk Visual Effects, Mirayi, Molinare, MNC Animation, Momoco, Moonraker, Moving Picture Company, Munky, The Mill, Nadom, The Nassal Company, National Space Centre, Natural Motion, nDreams, The Neighbourhood, Neon, Nexus Productions, Nomint Pictures, Nuframe, Nvisage, Nvizible, Onedash22, One Dead Pixel, One of Us, Outpost VFX, Overthrow Productions, Passion Pictures, PearlFisher, Pebble Studios, Peerless Camera Company, Picasso Pictures, Picture House TV, Pipedreams 3D, Pixomondo, Plowman Craven, The Pond Studio, Postyr Post Production, Prime Focus, Projection Artworks, Prologue Films, Proof, Prophecy FX, PTE media, Pumphouse Productions, Qudos Animations, Qvisten Studios, Rainmaker Entertainment, Realise Studio, Realtime UK, Red Potato, Redvision, ReelGood, Rewind FX, Rise FX, Rising Sun Pictures, RJDM Animations, Rocketdog Media, Rodeo FX, Rollickin, Rushes, Saddington & Baynes, Scenic Sets Ltd, Screen Scene, Screen Clay FX, Selex SI, The Senate VFX, The Sex Pixels, Sherbert, Shoot the Company, Simon's Cat, Sixteen South, Sky, Sliced Bread Animation, Slurpy Studios, Smoke and Mirrors, Sophoria, Sparky Animation, Spider Eye, Spiked Media, SpinVFX, Squint/Opera, Staramba SE, StitchthatTV, Storm Studios, Studio AKA, Studio Liddell, Sudden Black (SBTV), Superfad, Tandem Films, Technicolor, Th1ng, The Line Animation Studio, The Third Floor Inc, Third Eye Productions, Tidal Films, Tiger Aspect, Toonbox Entertainment, Triad Ltd, U6 Studio, Uber, Underdogs Animation Studio, Union VFX, Villains Wear Black, Vine Post Production, Visual Method, Voyageur Studios, Warner Brothers Studios, Weta Digital, Windmill Lane VFX, Wing Ltd, Wissper Limited, Zeetrope, Zoic Studios, Zoo Films, Zoo VFX. 
 
--------------------------------------------------------------------------------------------- 
 
Arch Vis: 
Alter Equals, ArcMedia, AVR London, BAM Design, Binyan Studios, Bowler James, Build, Carey Group PLC, Crystal CG, DBOX, Foster and Partners, Hobs Studios, Last Pixel, Level Architecture, Miller Hare, PreConstruct, Real Visual, Red Vertex, River Film Communication, Rock Hunter, Smoothe, Square Edge, Squint/Opera, Tiger X, Tinderstone, Uniform, V-Real, Vyonyx, Product Visualisation,   
 
---------------------------------------------------------------------------------------------- 
Agility3 Modelling and Simulation, A.i.Solve, Autonomy, Bentley Motors, Burrows CGI, The Creative Partnership, Dialectyx, DBOX, Douglas Fisher, Figure Digital, Firedog Design, Fusion Medical Animation, HMX Media, Ixworx, Mclaren, MediaSphere Ltd, Monster Play, MP Studio, Nucleus Global, Odd Boy, Pearlfisher, Random 42, Sparkle Media, Taylor James, Tekuchi, WeWork, Wilma Studios. 
---------------------------------------------------------------------------------------------- 
The Animation Workshop, Barking and Dagenham College, Buckinghamshire New University, Campus i12 University, Dasein Academy of Art, Digital Tutors, Elstree University Technical College, Escape Studios, Japan Exchange and Teaching (JET), Limerick Institute of Technology, London Metropolitan University, MET Film School, Netstorms, Norwegian Film School, Pixl Visn Media Arts Academy, Skills2Learn, South Essex College of Further and Higher Education, SSR (formerly School of Sound Recording), University of Hertfordshire, West Herts College, Weston College, William Morris Sixth Form College. 
---
Thank you for reading and if you have any further questions please feel free to PM me or post below.