Hi everyone,
I've finished an extension for PS I've been working on for AGES
It's a panel for brush presets, tool presets and stuff.
Here's the teaser!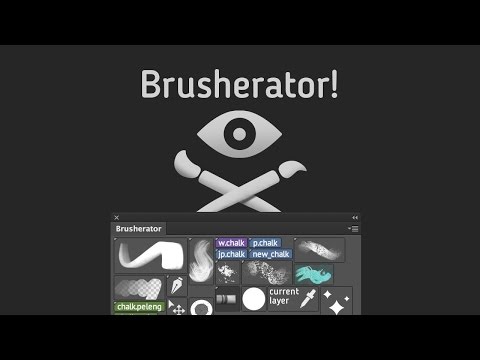 The goal with this extension wasn't to make this beautiful panel more comfy
but rather try to take a slightly different approach, more similar to what, *cough*, more modern 2d painting packages do.
My problems with Brush Presets and Tool Presets windows were that with previews turned on the brush lists are huge and without the previews you only have brush names (well, for tool presets you don't even have the previews).
So I thought to separate previews and buttons. For tools I'm familiar with I can have tiny text buttons or tiny tip thumbnail buttons. For brushes I use less frequently I can have larger stroke and custom thumbnails.
Features:
- Several types of buttons: tiny text buttons, larger auto-generated and custom thumbnail buttons;
- Possibility to keep your Brush presets and Tool presets on the panel;
- Additional optional panel for larger previews;
- Brush size is inherited no matter what brush size is in the preset (and this can be overridden for particular presets);
- Alternatives: a different variant of the preset on the same button;
- Shelves for different tasks;
- Hotkeys to toggle Brusherator visibility and Alternatives.
Several more gifs:
Shelves:
Alternatives:
The extension is available on my
Gumroad
or
Cubebrush
It's for CC and above only, CS6 and below aren't supported (sorry).
If you have any questions I'll answer them here or you can write me to
[email protected]
or
https://twitter.com/ebanchiki
Sergey.
P.S. also, to celebrate this,
Perspective Tools 2
is discounted by 35% for two weeks!