Hi there,
I'm coming pretty close to finishing up my current environment project, and I'm really looking to get as much feedback as I can before drawing it to a close and publishing it on Artstation.
It's based on original artwork from Simon Stalenhag, from his book 'Tales from the Loop' - see the artwork below.
And here's a video walkthrough of my interpretation of the environment where I take a fairly slow stroll around, and a bunch of screenshots taken straight from UE4 - no photoshopping of any kind, so these are pretty raw warts-n'-all shots.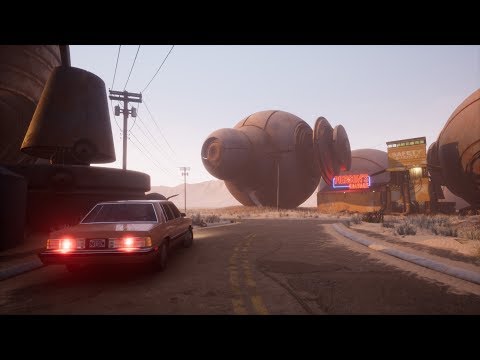 So, first of all - thanks if you've made it this far.
Secondly - as I said I am pretty close to done on this, I only want to give it a few more days at most before I start trying to make sense of it as a portfolio piece - so getting screenshots, showing detail, putting together a video cinematic, creating panoramic stills in Ansel etc. etc...
So really what I'm asking from the Polycount community is feedback about what's in there so far and how to present this on my Artstation - is there anything that looks obviously wrong? Is anything jumping out about lighting, composition etc. that definitely needs to change? What should I focus on in the portfolio? How should I present individual elements? Any suggestions for post-processing? I'm most open to changes to lighting / atmosphere / post-processing right now - that's not something I've ever given much time or thought to...
The trouble I have is that there are quite a few things going on in here - a full landscape with layered landscape material and foliage and scatter stones. The road spline-blueprint with all it's decals and details and blended materials.... The hero meshes with multiple materials blending together included POM displacement... the building all it's details... the pipe spline-blueprints... the powerline spline-blueprints.... There's a lot of stuff in there that I've worked hard on and while I want that to come through in the portfolio, I also don't want to overload the viewer. 
Anyhow... that's enough rambling. Thanks for taking the time to have a look, and thanks in advance for any feedback you chose to give - it's all gratefully received. 
Kind regards,
B.