I wrote this another piece for my blog. It seemed pretty straight forward. But I thought with all the people that come here when they are starting out it might not hurt to post this here. Again love to hear what you all think.
Watermarks should be on every image you make. The main reason being is that Art Directors, other Artists, and HR Managers will look at your work and often save images for reference or review at a later date. If your images are not named with your name in the filename (ex: yourname_building_01.) then they will have no idea who made the piece. The name of the file is also easily changeable so that cannot always be relied on. If something catches the eye of a person in a position to hire you everything should be done to make sure they know who made it and how to contact you.
Your watermark placement should not be obtrusive and take away from your piece. It is annoying to look at those watermarks as well. Now what if you're showing flat textures off? I do not think you need an obtrusive watermark on those either. If a company really wants to steal your texture then they'll find a way to do it. It's probably not wise to put up a texture pack of 40 textures with no watermark unless you have the intention of people using those in their work. Maybe 10 years ago that would have been more of a concern than it is today.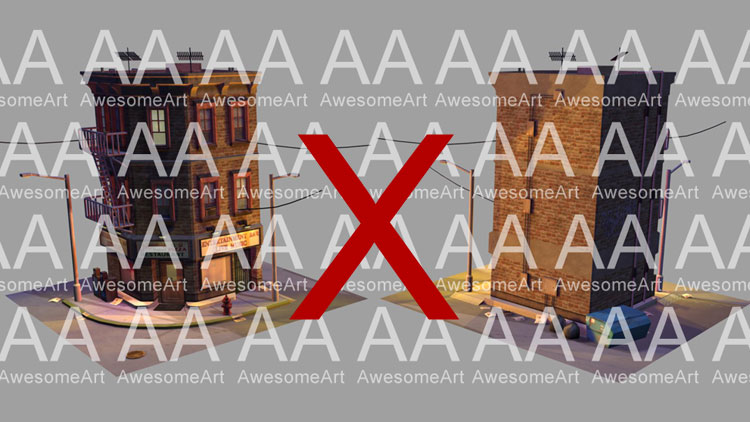 The actual watermark should also not be your initials, picture, logo, or dog's picture. Make sure to keep it simple, straight to the point and legible. Many of us lose sight of this because we treat our portfolio as a brand. There is nothing wrong with that approach. Aside from large fortune 500 companies logo recognition is difficult for companies and corporations let alone a singular Artist. Focusing on that takes away from time you could be spending making art.
So what kind of watermark should you have? Short answer is it should be your contact information (website, email, probably not your phone number or address though) at the top or bottom of your art sample. Put some way for someone to find who you are and how to contact you. Personally since my website and email address share the same URL (environmentartist.com) I just use my email. Now if your email is
[email protected]
then probably that should not be in your watermark. You'll want to have your website name and maybe your email in your watermark (though get a more professional email address).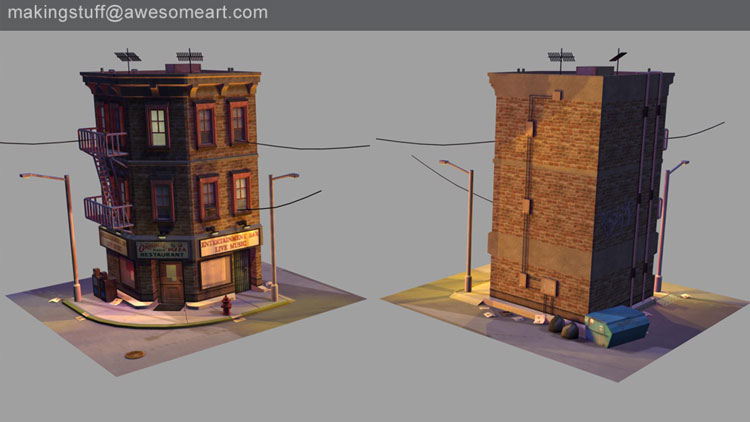 Previously I did not watermark my work my blog sketches, speed sculpts, and doodles. I watermarked work samples on my main portfolio site but not on my blog. My thinking on that was no one would actually want to save something from my blog. It was just my art ramblings. Keep things consistent and make sure that anything (even art doodles on a blog) can be traced back to you is smart. My current watermark is just a colored box with my email in it. That might change in the future, but for now it is not obtrusive and allows someone to contact me if they want.
With that all said if you're watermarking your work you need to make sure it's something you want traced back to you. Your artwork will always get better then more you create art. So even older art is fine to have a watermark. You just might want to cycle the older work off your main site at a certain point.
Please post any comments or recommendations for watermarks below.