I'm back already to begin a new project while I wait for replies from studio's I've applied to.
In my last project I kept the work hidden from everyone and only wanted to post progress when it was near completion. I now feel that was the wrong way of thinking and so I aim to make this next project more personal with you all.
I intend to learn from this project and have given myself 4 weeks to complete it. Therefore the deadline is
18th Febraury.
(Well that didn't work out as planned.)
---
First of all are my aims:
* To learn the basics of Z-Brush and create custom brick textures using high poly bakes.
* To use modular pieces for quick planning and development.
* To improve my atmosphere and lighting techniques.
* And to create a scene that has been in my head for a long time. It wants out now.
Now for the level story:
The scene is set in a fictional world similar to ours only more futuristic. There are two factions: The Overlords and the Underlings. The Underlings are people who were destined to be executed due to public fear of what they were eventually going to transform into. A single Underling managed to take over the execution facility and free a large group of Underling prisoners.
They fled to the sewers and turned to terrorism in order to get the rights they felt they deserved. They infiltrated a section in the sewers that contained the Overlords drinking water and poisoned it using a rare flower. The Overlords sent in an infiltration team to assassinate the Underlings leader but failed.
After much struggle the Overlords eventually gave in and a treaty was signed to give the Underlings their own personal space on the planet away from contact of the Overlords.
A structure was created and placed in the spot where the Underlings lived during the war. My scene shows this room and the shrine left behind...It has overgrown a little.
---
Day One Progress:
* Moodboard and Rough Sketch created.
* Simple layout blocked out in 3DS using modular boxes.
Day Two Progress:
* Models ported over to UDK and a simple texture applied.
* Rough lighting and sun position decided.
* Decided that pipe shrine needs to be more interesting. Will change so that pipes are angled and have bolts and curves.
* Used UDK stock particle effects for water splashing out of pipes. Decided it moves too fast and doesn't look like it is coming out of pipes. May need to learn to create particles or at least edit current ones.
Day Three/Four/Five ETC Progress:
Real life took over most of my time but I was able to eventually sit down and get some work done. I created my first Zbrush brick texture and had memory issues when trying to render in Max so I tried Xnormal. Worked a treat.
I then combined the final renders with textures from cgtextures and pushed it all through crazybump for the final apperance.
At the moment nothing is properly UV mapped or scaled correctly. Lighting is at a stage where I'm comfortable at leaving for now.
Day Six/Seven Progress:
I've aligned most of the textures, made an arch for the entrance and exit, tweaked lighting, tried to sort out brick texture spec but rushed it and will have to go back to it. Finally I tried sculpting some details into the stairs but poor planning and a bad UV made the effort a waste. At least I learnt some new things. Going to start adding some detail to the ceiling such as extruded edges inbetween the seams. I also plan to have broken parts with mud in the middle. Also plan to add vegetation if possible although I've never tried it before and hope I can perhaps use speedtree.
---

Progress 08 (Forget the days):
So I promised to finish this on the 18th but events in real life pretty much wrecked that goal. I've spent the last few days working on it again and I've got this far. Textures are all still just temporary as I wanted to flesh out more of the the mesh detail. I took my time and researched sewers and I've now changed the design slightly to a "
Storm Overflow System
".
I quickly fleshed out a pipe shrine but it's way over the polygon limit at 20,000 tri's so I'll be sorting that out and UV'ing it, texturing etc. I also experimented with gold material but it didn't suit the grimey environment around it so I'm cutting that idea out. Instead I may add treasure or shrine gifts scattered around it. Next step is to make some bricks in Z brush and scatter them around the shrine since the ceiling is collapsed in the chamber above.
Finally I experimented with some lighting colours based on
these
pictures. I intend to add some man made lights with wires to explain the illumination in the room since they're normally pitch black.
---
Progress 09 (Final?)
It has been a while eh. I've been working on it for a while now and I believe I've come to the point where I'm calling it finished once I've received all feedback possible.
---
[ame]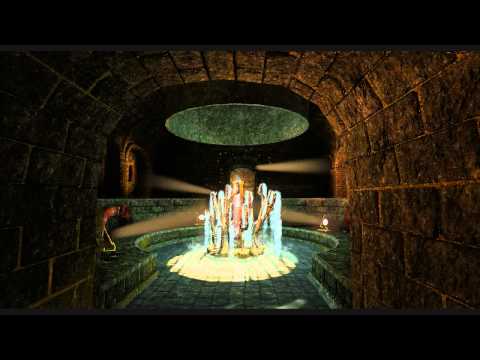 ---
I'll appreciate any advice you can give. My greatest conern is creating custom bricks for texturing and creating some of the arches going from floor to ceiling. This will be a fun challenge. Overall though my main inspirations are Oblivion and Half Life 2.