Updates so far:
Theme:
Spytech's "spy another way" pack
or "essential kit for clean killing"
Weapon slot #2: Meelee weapon
Alternative weapon #1: The electro-taser
Replace the knife
[ame]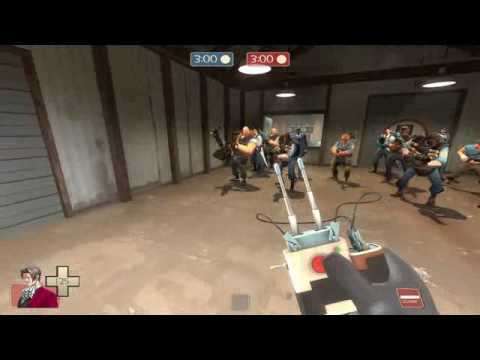 a prototype nuclear pile powered taser to shock your ennemies to death.
send them the chill to the spine without getting any blood on your suit!
Instant kill on backtasing
crits on any hit
(except the fireaxe pyro and a bonesaw medic)
2.5 second cooldown between hits
ammo of 3 discharges
(can refill ammo with ammo pack and supply cabinet)
Weapon slot #1: Primary weapon
Alternative weapon #1: dart shooter (name pending)
Replace the revolver
Use air compression to shoot small poisonned darts. no more gun powder on your hands anymore!
Alternative weapon #2: Sap shooter (name pending)
Replace the revolver
Same dammage as revolver
Can sap buildings from a distance
3 second reloading for each shot
-80% ammo

note: possibility of shooting other kinds of projectils aswell.
Weapon slot #3: Watches
Alternative weapon #3: The blank shot (name pending)
Replace the watch
integrated microphone, powerfull tiny speakers, holographic projector, this watch has it all!
Can use and fire the primary weapon of the class you're disguised
Does'nt do any dammage to anyone
no cloaking

The cloak meter represent the blank ammo meter
RMB to switch between the real weapons and the fak weapons
Hat slot
The satelhat v.2
Level 23 portable baccarat detector
Misc slot
The wiretape
Level 27 sound recording device

Note: All stats and functionalities above are optional, they can still be used as simple "skins" of their replacement without changing their gameplay mechanics.
Progress thread below.
---
---
Hi polycount, I chose the spy for the weapon pack that I'll make.
First is gonna be an alternative weapon for the knife.
The knife alternative will be: the electro-taser
I take a good look at the current weapons and liked how some had wires going around a bit. Also how things a just blatantly taped on the razorback. I also took the switches on the sapper and the big button on the PDA.
http://tf2wiki.net/w/images/thumb/f/f6/Demolish_PDA_HUD_OFF.jpg/800px-Demolish_PDA_HUD_OFF.jpg
http://media.playhaven.com/hOfeQpYgt5dPOGCs4FqDjw/huge/sapper.jpg
http://www.tfportal.de/gfx/content/tf2/weapons/sniperrifle_large.png
http://www.tfportal.de/gfx/content/tf2/weapons/sniper_razorback_large.png
Here's the model I've came with so far, The UVs are also finished.
Also here's another view of the model with the UV layout.
Next step: Texturing