Hey all
I was checking some Japanese 3d console games recently (mgs and ff series) and I think I noticed something.
I'm not 100% sure but I feel that the characters in these titles somehow share the same shoulder topology that I like to refer to as the 'Bender' look. Like the bottom variant labelled '2' here: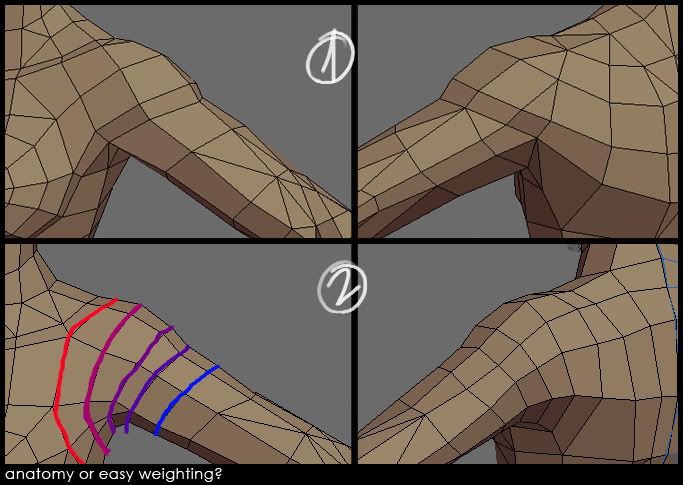 I usually wrap a loop from the bottom of the pectoral muscle (or boobs) all the way up to the final attachement point of the deltoid (as seen in '1' and here
http://upload.wikimedia.org/wikipedia/commons/thumb/9/93/Deltoideus.png/250px-Deltoideus.png)
, but if the problem is seen from a vert weighting point of view I'm sure that solution '2' allows for a very easy setup that blends the shoulder-to-upperarm weights in a nice linear manner. It might also allow for better looking extreme movements such as crawling and large sword actions.
I still have tests to run, but what is your view of the problem?
References :
http://www.ffxii.net/images/screens/game/11.jpg
http://www.userrankings.com/spiel/1321/images/screens/1321/31.jpg