Hello, I have a model here (a "Vespa 150 TAP", if you wanted reference) and am having trouble deciding how I should divide it up material-wise for UV maps / importing to substance painter. I figured this would have been an easy thing to google, but I can't seem to find any tutorials or threads that talk about this (or I'm using the wrong search terms). The only thing I could find was this thread from last year:
https://polycount.com/discussion/218015/how-would-an-object-like-this-be-divided-up
I understand that the rifle in the above thread would have one material for the entire base part of the gun (two if you wanted more definition), and an extra material for attachments that may or may not always appear with the gun (ex. scope). If there are any transparency/glass/special materials, they get their own map. But a scooter is quite a bit larger than a gun, and I'm assuming the same approach for the rifle won't work as well here.

This is what I was originally thinking, if I were to just go ahead without asking for a second opinion:

Dark Green = Large metal bits that make up the base frame of the scooter

Light Green = Smaller metal bits, on a separate material to give Dark Green more uv space / texel density

Red = Non-metal / Synthetic materials (rubber, fabric, leather)
Blue = All the metal bolts I have scattered around the model, on a small 512 sheet or perhaps merged with green/light green

Yellow = Glass / Transparent materials, on a small 512 sheet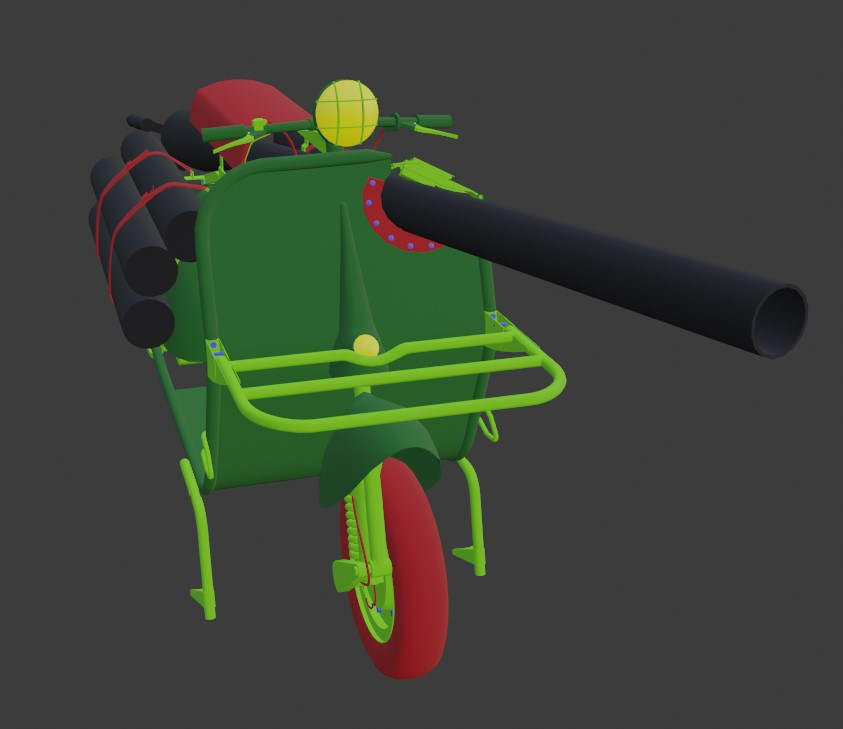 I'm still an amateur, but it feels like an approach that makes sense. The problem is that I end up with 5 different UV Map/Materials to handle, and I'm getting a nagging feeling that I'm using too many material/UV sheets.

For simplicity's sake would it be better to reduce the amount of materials and go with an approach like this instead, where I only have two materials for the scooter (base and secondary/accessories), and a third one for glass/transparent pieces, then compensate by making blue+green a 4k map?
The low and high poly is done, but I feel like I've hit a wall for something I didn't think much of before when I was only modelling smaller objects and could fit everything on a single UV map.

Is my original/first approach perfectly fine, or should I be keeping the materials to a minimum and simply use a larger map to compensate

(I don't know if it is relevant to the question, but let's say this model was for a video game, rather than a movie)