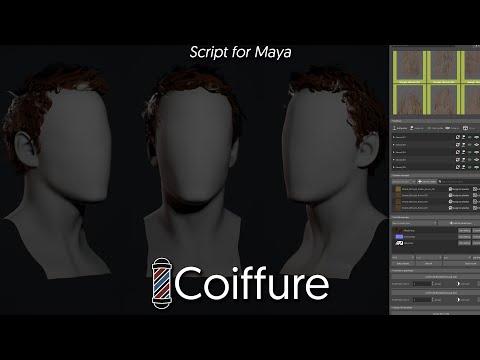 https://www.youtube.com/watch?v=gjbWugDNbTA
Hello Polycount,
I'm Florian Croquet, some of view might have already seen my previous tool called "Couture"  than I released 2 years ago.
I'm back today with a new tool called Coiffure and it's basically the same thing with hair
, you will also discover a new french word!
Fast, iterative and easy to use,Coiffure simplifies and streamlines the Xgen real-time workflow as usually seen in games production. 
→ Thanks to a strand library you will be able to quickly use and reuse a large variety of strands created with Xgen.
→ Organise and create your textures in Arnold in minutes.
→ Create your haircut with Coiffure's ribbon system to quickly place and adjust your haircards.
→ Finally, adjust your UV in seconds with Coiffure's UV template system!


Last but not least, everything is iterative and non destructive so you can create and reload any project.
To celebrate the launch of Coiffure -33% discount on perpetual license with the code "launch48" for 48H!.
Perpetual License :
https://gum.co/vhMyu
Subscription License:
https://gum.co/GcyWU
Coiffure works for Maya 2018+ and requires an online connection. 
Cheers,
Florian
Head model by Bao Vu 
https://www.artstation.com/artwork/xogKW