Hiya:
I've been out of the loop for a while creating 3D content of any description, as a result psych'd to finally get back into the 'groove' having a crack refreshing various skillsets through a complex long held hardsurface passion project (...which I confess is in tandem with other personal stuff on another forum) 
Hence this assignment will be split into separate parts i.e. 3D Still, VFX Shot and a possible browser based playable demo/prototype, whilst at the same time putting into practise optimisation techniques I've picked up here-n-there.
So at a glance fairly ambitious overarching exercise in general I've taken on but nonetheless I'll try and do my best keeping to a somewhat 'regular' update schedule despite foreseen wavering levels of motivation throughout.
Oh...and peer review positive or otherwise as always most welcome  
Anyways needless to say an extended workload over a period of time possibly 10 - 12 month (...whenever it's finished) timeframe, that'll include but not limited to the following:
DISCIPLINE:
- Subd modelling
- Retopology
- UV Unwrapping 
- Realistic Materials
- Rigging
- Animation
- Sculpting
- Simulation
- Compositing
- Game dev
PRODUCTION PIPELINE:
- Blender
- Inkscape
- GIMP
- xNormal
- Utimate Unwrap Pro
- Blend4Web (WebGL)  https://www.blend4web.com/en/technologies/blend4web-ce/

REFERENCES:
Blueprint Set
https://www.the-blueprints.com/blueprints/tanks/ww2-tanks-germany-2/72521/view/sd_kfz_182_pz_kpfw_vi_ausf_b_king_tiger_%28henschel_turret%29/
Modeling
http://www.koenigstiger.ch/english/index.html
http://www.worldwar2aces.com/panzer-tank/kingtiger/
Animation/FX
www.youtube.com/watch?v=Oqm4gunNTFo
www.youtube.com/watch?v=Oqm4gunNTFo
Base Mesh - Blockout (current state)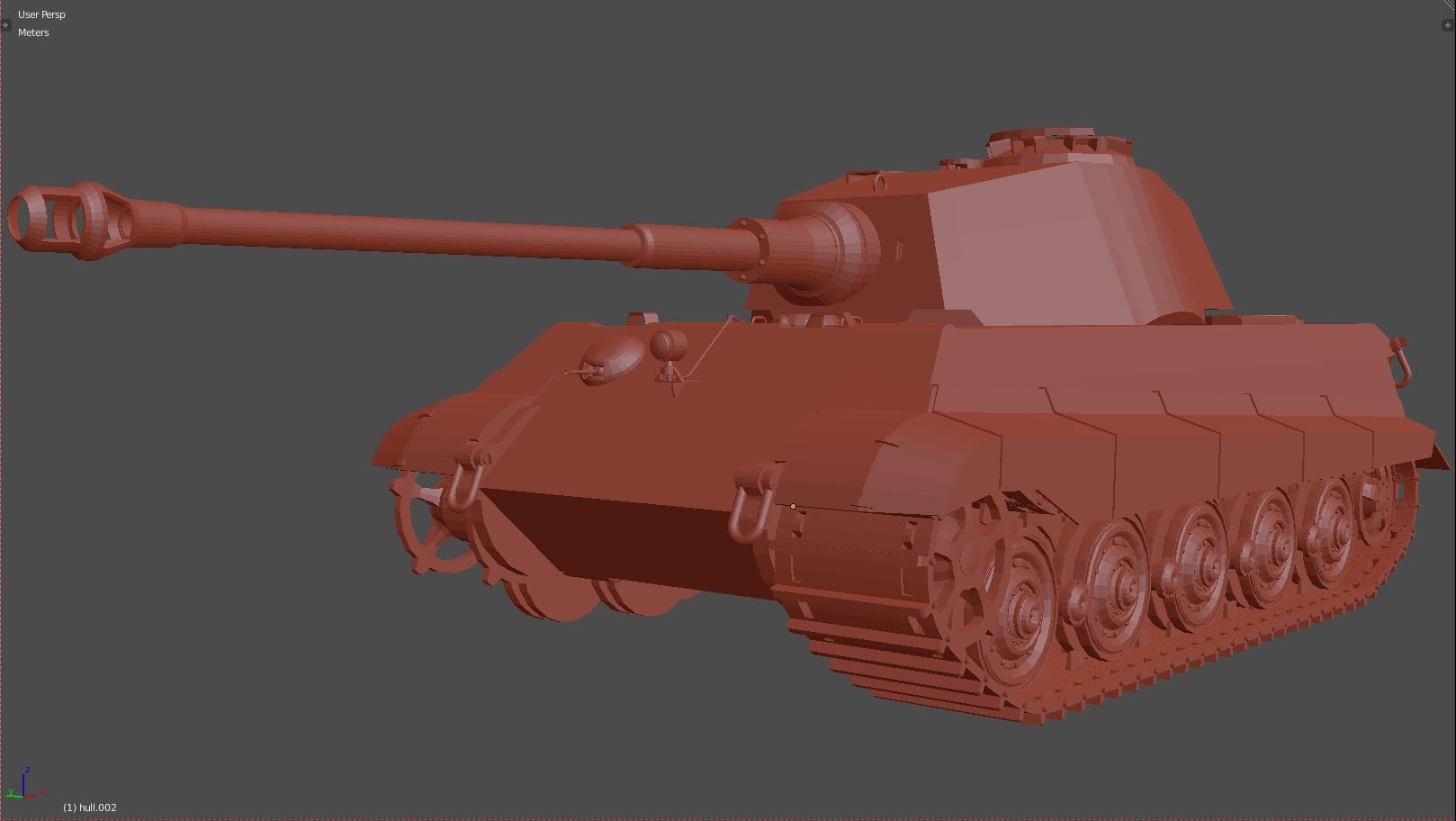 Cheers.