CyberRunner is a project inspired by the incredible works of Mike Pondsmith, Syd Mead and David Snyder.
I really wanted to capture the atmosphere of the BladeRunner and Cyberpunk universes. The addition of some slight dark undertones indicate the struggle that exists at the street level. Many people attempt to find employment in order to earn enough credits for a basic meal every day.
I want to thank all the incredible people who offered critique and helped with the interesting and varied problems I encountered during this project. You have been all out legend's throughout this project, you peeps are sick.
Original PolyCount thread(seldom updated):
http://polycount.com/discussion/157258/blade-runner-cyberpunk-streets#latest
You should check out the project on Art Station as well as giving us a like!
CyberRunner:https://www.artstation.com/artwork/JBbzR
CyberRunner Police Spinner:https://www.artstation.com/artwork/olW6w
CyberRunner asset breakdown:https://www.artstation.com/artwork/rdW95
CyberRunner assets:https://www.artstation.com/artwork/24yLe
CyberRunner effects breakdown:https://www.artstation.com/artwork/24yZa
Prepare for lots of images!!!
The Main Event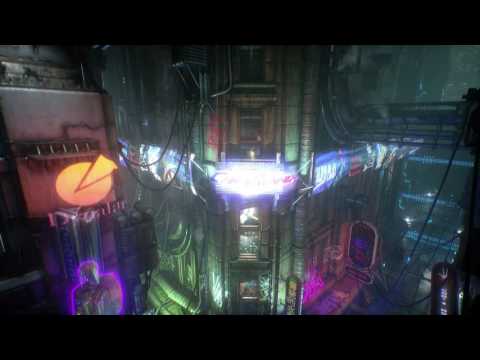 Police Spinner
The original car was designed by the incredible designer Syd Mead. I have tried to recapture what I could, digging through forums behind the scenes footage and carefully studying the blu-ray release of the BladeRunner movie. Gathering all of the models and cars used in the movies and seen in concept art, I created a version of the Spinner which is accurate too but at the same time, not at all. I took the Spinner from the movies a couple of generations into the future, adopting the methodology of just bolting new tech onto the side of it.