OK, so, I am really doing my best to figure out all this stuff on my own/by reading discussions on this, but I think I need someone to dumb this down a bit further for me....
So, my problem is that currently, I am trying to model and texture a low poly sword in Substance Painter (because Quixel's inability to handle texture seams is driving me away from it currently). So, I follow the fundamentals tutorials for substance painter and I get to the baking textures section. I take my model, bake the textures, and see that the normal map has errors along the corners. Specifically, it looks like someone took a needle and thread and did some stitching along the edges. So, I google what the problem might be, and discover the mysterious term 'smoothing groups'. Determined to learn how to solve my problem, down the rabbit hole I go. Here I am two days later and I am just as confused as I was at the start. I came across the "Your making me Hard, Understanding hard surfaces w/e" polycount discussion page and tried to incorporate what I said, but that does not seem to fix everything, thought it does get things the closest.
So, here I am to give an accounting of what I have tried and what I think is going on, and hopefully someone here will tell me what I am not understanding, or what I should do differently.
Here are all of the different methods of smoothing groups I tried to apply to my lowpoly mesh in order to fix things, and the resulting bakes. I also tried at one point to change the smoothing group of the high poly mesh, but that just crashed Maya.
Here is the low poly model
Here is the high poly model
And here is where the UV seams are...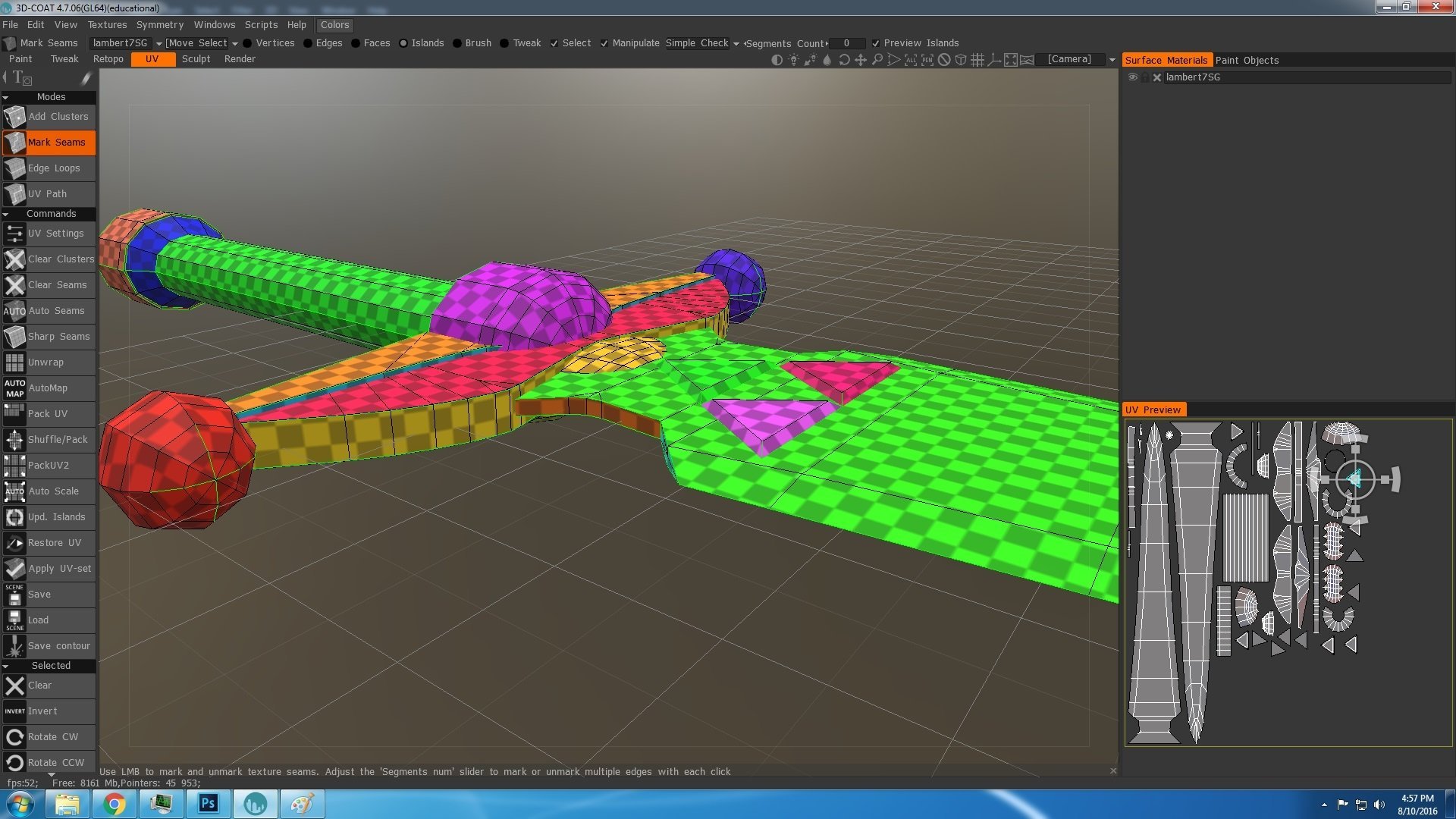 At this point, I really don't know where I should start trying other things. As far as I can tell, I've tried most of whatever suggestions I've seen others suggest online, other than just rebuilding the whole thing. Any help would be greatly appreciated.
Also, in a separate but different issue, what is up with the curvature maps that substance painter bakes? Its like it was drawn by a kid with a crayon compared to what comes out of xnormal. Is it supposed to be that way? Would Xnormal's type of curvature map not be enough or something?