And here it is, folks !! The time has come.
Ideally, the goal is to finish a character within the month, all the way to low-poly game engine ready. But if you are busy, you can still do a bust or a sculpt.
Anyone and Everyone can participate.
PLEASE HELP SPREADING THE WORDS !
Join our Google Hangout [Link]
Come say hi and share screen with everyone else while you work !! Awesome way to learn new technique or workflows.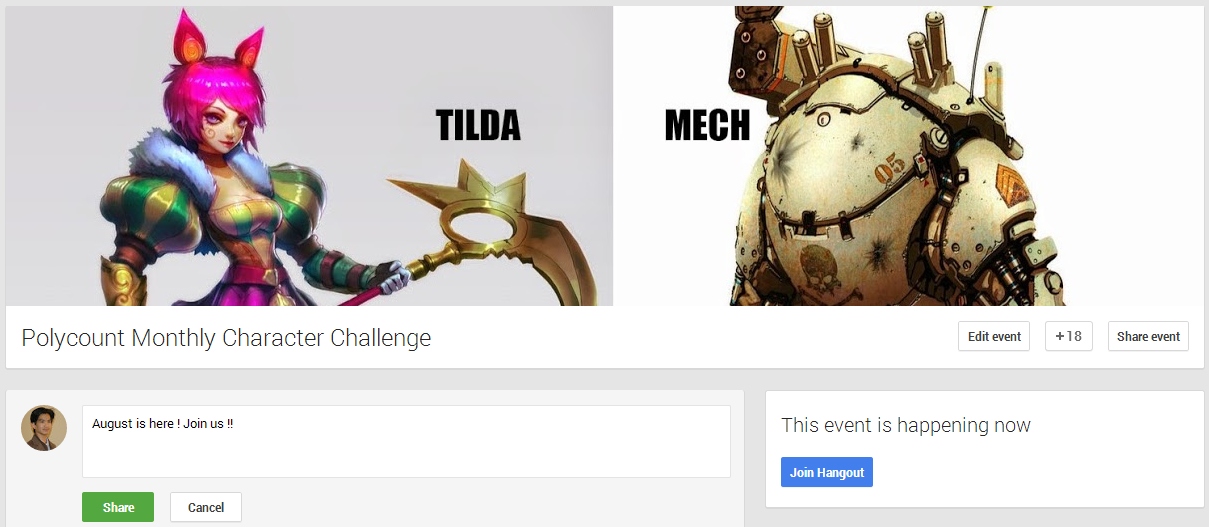 The goal of these challenges is to learn as much as possible, and to help others do the same. The rules were designed with this goal in mind, so here they are:
1. Try to leave at least one critique per post. It makes you a better artist if you have the ability to give constructive critiques. Just because you're working on a different concept piece, doesn't mean you can't give feedback to others.

2. Challenge yourself.

3. Your final presentation should be posed and rendered in real-time.

4. Try your best to finish on time.

5. Post your work-in-progress in this thread.

6. Specify your own triangle count and texture size. Be reasonable and stick to your budget. Some suggestions are as follows:
Mobile: 2k Triangles, 512 Maps
Mid Res: 16k Triangles, 1024 Maps
High Res: 32k Triangles, 2048 Maps

7. Similar to #6, you may pick an art-style yourself. You are, after all, an artist too. | Realistic, Stylized, Cartoony, etc |

8. Learn as much as you can. Share what you've learned.

For this month, we have two concept art chosen. Pick one you want to do.
Paul "Zeronis" Kwon
---
'Tilda'
piece
Alexander "flyingdebris" Iglesias
---
'Mech Suit'
piece
Good luck. Have fun.