Hello all -
I have a bit of an odd question. I plan to move around quite a bit in the coming year (say, one month at a time, in different countries) and I am thinking of bringing along a decent desk workstation. By decent desk workstation I mean, not a laptop+tablet combo, and not one of the recent Cintiq Companions/Hybrids either, as these feel somehow too cramped to me. But rather, a very tiny PC with something along the line of the 15inch Cintiq which I believe might be compact enough to fit in a traveling case. And of course a regular-sized keyboard
Now the resolution on these older 15inch Cintiqs is pretty low at 1024x768 but since I very much dislike the highres/tiny icons feel of the 12 and 13 inchers I am starting to think that these older ones might actually be good enough. Pressure sensitivity is only 512 levels, but that doesn't bother me too much either : I am mostly interested in knowing how well it responds to the initial touch, ie, whether or not it can detect very light strokes.
So ... anyone has any experience to share about these ? That's how they look and perform (and I have to say I am very impressed by the cursor accuracy at the border edges, which seems better than on the most recent black 21UX...)
[ame="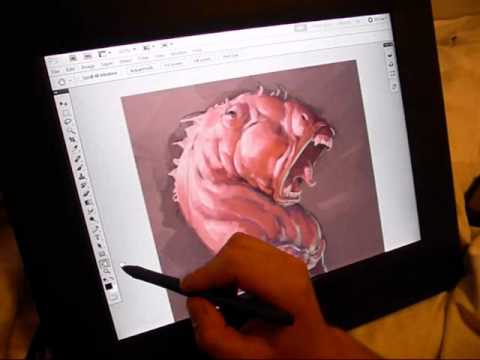 15x - YouTube[/ame]
http://c0.dmlimg.com/1fc1c1c2db5852e08ffc380475e2633686a78e9405b82589315aca2ecaf28775.jpg
--
The next question is about a PC to power it. I am actually very satisfied with my current (aging) machine : i7, 16 gigs of ram, gtx470, so performance-wise I am looking for something comparable. Does anyone know of a tiny, compact PC that would deliver similar (or even, superior) horsepower at price point of around the $500 mark ? I don't mind a ready-made solution, especially if it comes with a guarantee of both stability and performance. Something the size of a mac mini would be awesome, but slightly bigger is acceptable. The bottom line is that it has to be able to run a regular Marmoset 2 scene without struggle. I do not mind the idea of an integrated graphics card, if performance is good enough.
Thanks a lot for your help !