CURRENT PROGRESS:
[vv]49536231[/vv]
ORIGINAL POST BELOW
---
Hi all.
After
my last project
I decided to do something a bit different and remake an area from my favourite game of all time - Rare's Banjo-Kazooie on the N64.
I figured the first place you start would be the
best
place to start - Banjo's House. An indoor, small-scale environment.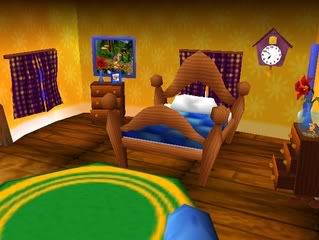 Unlike my last project, I'm hoping to get Polycounters involved from an early stage, so I've literally just started over the past few days.
Below is the initial block-out made with the in-game assets from the original:
I've already started putting in things like the floorboards and the odd placeholder texture to get those colours in.
Any thoughts this early on?
I was going to go for a stylised photo-realism, unless anyone can argue the case for hand-painted textures.