Hello everyone, and welcome to my thread!
I finally decided to start a thread to register my progress on this project. I've been modeling some assets here and there for a while, and decided to put them all into a scene. That said, this is my first try at a larger scale project. We gotta start somewhere!
Please, i encourage you to criticise and suggest things. Here we go:
INSPIRATION
My main inspiration was the work of
HJ Park
.
I loved the crowded/disorganized feel of his environment, full of assets of all sorts. Since i'm aiming for an environment/prop modeling position in the future, this is a good oportunity to showcase my skills managing multiple props. 
I'm not following any concept in particular, but a couple of images of messy electrician workplaces and garages. There is a single pic (the one in the center) that can serve of guidance for my project. It has bombs n stuff. From them i get ideas of typical objects found in those places. Here is a PureRef image of some of the references i gathered: 
Yep, that's a lot of assets... But i'm confident that i will be able to handle it. 
I thought about bringing the scene to Unreal Engine, but for now I will be rendering this project using Marmoset Toolbag 3. Let's see.
IDEA
The idea is to model a basement of a terrorist: full of bombs, mines, grenades, missiles, old military storage crates, wires (a LOT of wires), electronic devices, tools, pipes, improvised explosives, cellphones, etc. There will be a couple of focal points to be stabilished.  I really want to achieve that feel of an organic, disorganized workplace. The place will have few light sources, with some moonlight coming from the basement window.  I'm still finding new stuff to add to the scene, so
feel free to sugest objects for me to add
.
BLOCKOUT
Unfortunatelly i didn't start the project with a blockout, i created a blockout at a later stage. As i said previously, this project created life and demanded me to expand it 
Here is a really rough blockout with a ref man for scale and some low poly geometry:
Here is the blockout mixed with some high poly stuff:
WIPs
Here i'll post some progress pics of the things i've got so far. 
British 3 '' mortar shell:
PROM-1 mine:
M43A2 mortar shell: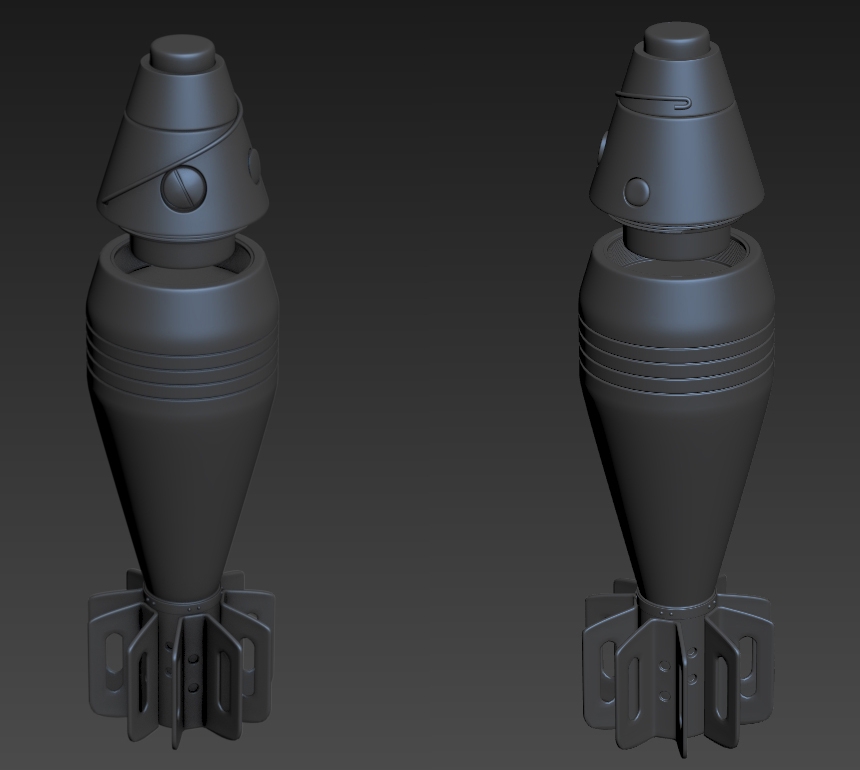 S-mine ("bouncing betty"):
M18 "Crymore' mine (sorry, i couldn't resist):
Realistic Patrolman-9 radio:
Arc welder:
Here is a pic of what i've baked and textured so far (just the vise and the table):
I guess that's it. I'll report back once i get more progress and some time to spare.
Again, C&C is extremely valuable to me.


Thanks, Polycount!