Hello everybody, I am new here at Polycount, 
I am from Brazil and a student at Gnomon School, I love to create games and interactions, I worked on my own projects, some freelances and inside small studios in Brazil since 2010, now I am focusing on the studies and hope to get inside at the big games company after it. 
I really love to do every aspect of a game, I love program game play, shaders and effects and I love to create characters, props and environment. 
I made this scene that I finished this week, and instead of just make a video of the walk around I spend two days programming and adding sounds, effects and events around the scene. What do you guys think of this type of demo reel? 
This scene was inspired by the classic Beatles song, Eleanor Rigby and Silent Hills playable teaser, P.T. I tried to mix the mystery behind that music in a game style environment to see if I could show a nice and scary ambiance.
This scene got the 1st place at the Sketch Fab Halloween contest and after that I decided to make a extension beyond visual stuff. This was great to practice lots of technical art and design, I love to develop interactive entertainment and creating video games is a big passion. Horror also has a special place in my heart, so mixing both together came a really fun project to develop and learn.
I used zBrush, Maya, Blender, 3D Coat, Substance Designer, Substance Painter, xNormals and Unity 5.2 to create this scene, also used and tested it on Sketchfab, later I programmed the game in C# inside Unity 3D.
I will love to hear your feedback.
I made a video of the game play: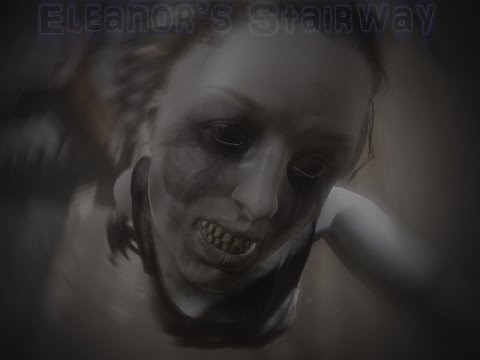 If anyone want to download it and play here is the download link:

Here is a few screenshots inside the game:
Here is how I started the ghost, I wanted to find some cool ideas for the ghost, so I started with a sphere doing some fast shapes and colors after a bunch of scary images research ....
I wanted to find a nice balance between scariness and beauty, I wanted to introduce a normal and beautiful woman for later make a bizarre distortion of it and its reality,
After these tests I made a retopo inside Maya to have better flows and shapes to keep sculpting on it inside zBrush, I also blocked all the cloth inside maya and brought everything back to zBrush to finish the sculpting. I love sculpting cloths, I had lots of fun doing all this parts.
All my models I made the low and highpoly inside Maya, adding extra edges loop on the high version and extracting the normalmap from xNormals, I only used zBrush on one object for the high map, all the others was only maya + substance highmap and texture painting..
Thank you very much.
Best regards,
Renato Aruffo