Edit: Updated with video!
[ame]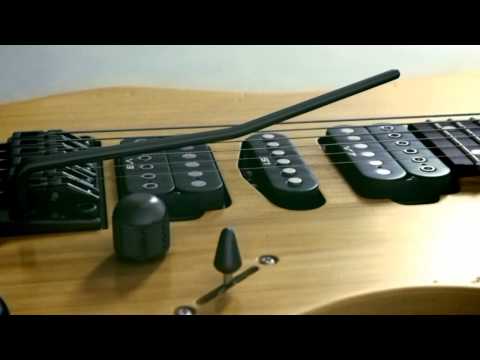 Downloadable video (6mb, XVid codec)
---
Can't... stop... rendering!
(Click for 1080p resolution)
Decided to make a new thread for this project instead of cluttering up the WAYWO thread with random pics.
Modelling:
Modelling is about 80% done, I still have to finalise some details on the bridge and add some stuff to the headstock (hence not showing it much!), then do all the internals (wiring, components etc).
The whole thing has been polygon modelled entirely in Maya, it's sitting at around 100,000 faces for the control meshes, probably around 2.5 million when subdivided.
It is modelled accurate to life, all the screws can be unscrewed and all the pieces come apart realistically. I hope to end up doing an animation in the end, trying to make it look as realistic as possible.
I'll post up some wireframes of the control meshes tonight, probably.
Texturing:
Currently using about 3 texture sets, diffuse/bump/reflection/exponent maps, between 2048x2048 and 4096x2048. Going to look into messing with procedurals for doing the weathering on the dark metal, that stuff currently isn't even texture yet, just using a flat MR shader on it, which is why it looks super-clean compared to the surrounding parts.
Rendering:

Rendering is in Mental Ray with nice glossy reflections and an HDR sphere map for environment reflections.
List of older WIP images and renders:
http://www.greveson.co.uk/dump/ibanez_wip_01.jpg
http://www.greveson.co.uk/dump/ibanez_wip_02.jpg
http://www.greveson.co.uk/dump/ibanez_wip_03.jpg
http://www.greveson.co.uk/dump/ibanez_wip_04.jpg
http://www.greveson.co.uk/dump/ibanez_wip_05.jpg
http://www.greveson.co.uk/dump/ibanez_wip_06.jpg
http://www.greveson.co.uk/dump/ibanez_wip_07.jpg
http://www.greveson.co.uk/dump/ibanez_wip_08.jpg
http://www.greveson.co.uk/dump/ibanez_wip_09.jpg
http://www.greveson.co.uk/dump/ibanez_wip_10.jpg
http://www.greveson.co.uk/dump/ibanez_wip_11.jpg
http://www.greveson.co.uk/dump/ibanez_wip_12.jpg