Hi!
I'm working on a video game project by myself at this time, and one thing among many that I've been doing recently is creating a cartoony eyelid material in order to control a character's eyelids through a material rather than the usual polygonal eyelid. This is to make things easier to work with for this kind of eye that isn't spherical and doesn't wrap around an eye so easily - or at least to my knowledge. If there is a way for one mesh to automatically wrap around the surface of another (the eye) without wonkily animating an eyelid with an ungodly amount of controllers, DO let me know, because that sounds very interesting, but for now, the only possible feature in Unreal Engine for this, to my knowledge, is the so-called "FMeshToMeshVertData", which is supposed to work the same way as a wrap deformer in Maya. However, it's nowhere to be found in the engine itself last time I checked, only in the bare minimum of documentation online, so it's a no-go.
Here's what the material looks like. I made a gradient in After Effects that would bend the texture in a nice and smooth arc based on a multiplication input value from 0, and then I added the usual transform features to move the eyelid around after the fact.
I've pretty much finished it, but there's one particular thing that doesn't work: Manipulation of the horizontal axis in the UV doesn't seem to work in this case. I think the reason for this is that the eyelid texture has almost no details that change along the X axis. But I'm trying to change the UVs in the X axis AFTER changing the Y axis, so why doesn't this work? Why is it detecting the changes I have already made to the material?
Here's a video from earlier in the process of making this material, where I had a pull modifier as well, in order to pull the eyelid slightly to the sides if needed, but it never worked because the original image, before changing the UVs, only had a horizontal line: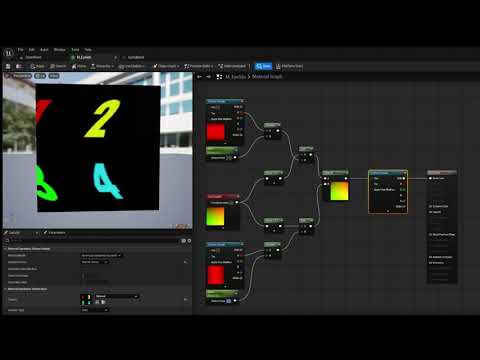 https://www.youtube.com/watch?v=EHU4W0zdpaE
So, is there any solution or workaround for this? I find it very strange that this doesn't work straight away.
If anyone wants to see the final result, here's a little animation I rendered out. He' not rigged yet, so there's only eyelids right now: