(Long Post. TL;DR I've been working on two separate dioramas during school and blogging about it.)
Following up from my last upload "Desert Rock Study" which can be found here: https://www.artstation.com/artwork/vJdn4x
I've been attending school in Canada and hopefully within the next year I can land something in terms of an environment artist role. In that time I've been working on two dioramas to fill more space in my portfolio on Artstation just to demonstrate more of my technical/modeling skills and presentation.
I mainly started these as small element studies (Desert, Water, Forest, etc.) and currently I'm halfway on the water diorama and a quarter done with the forest scene..
Starting with the water study.
1.) Water study I found this cool concept by (I believe, google translate) Qi Pig? from the Star CG page on Artstation... and figured it would be a good concept to create some rocks and a water shader.
Currently, inside UE5 I have this setup.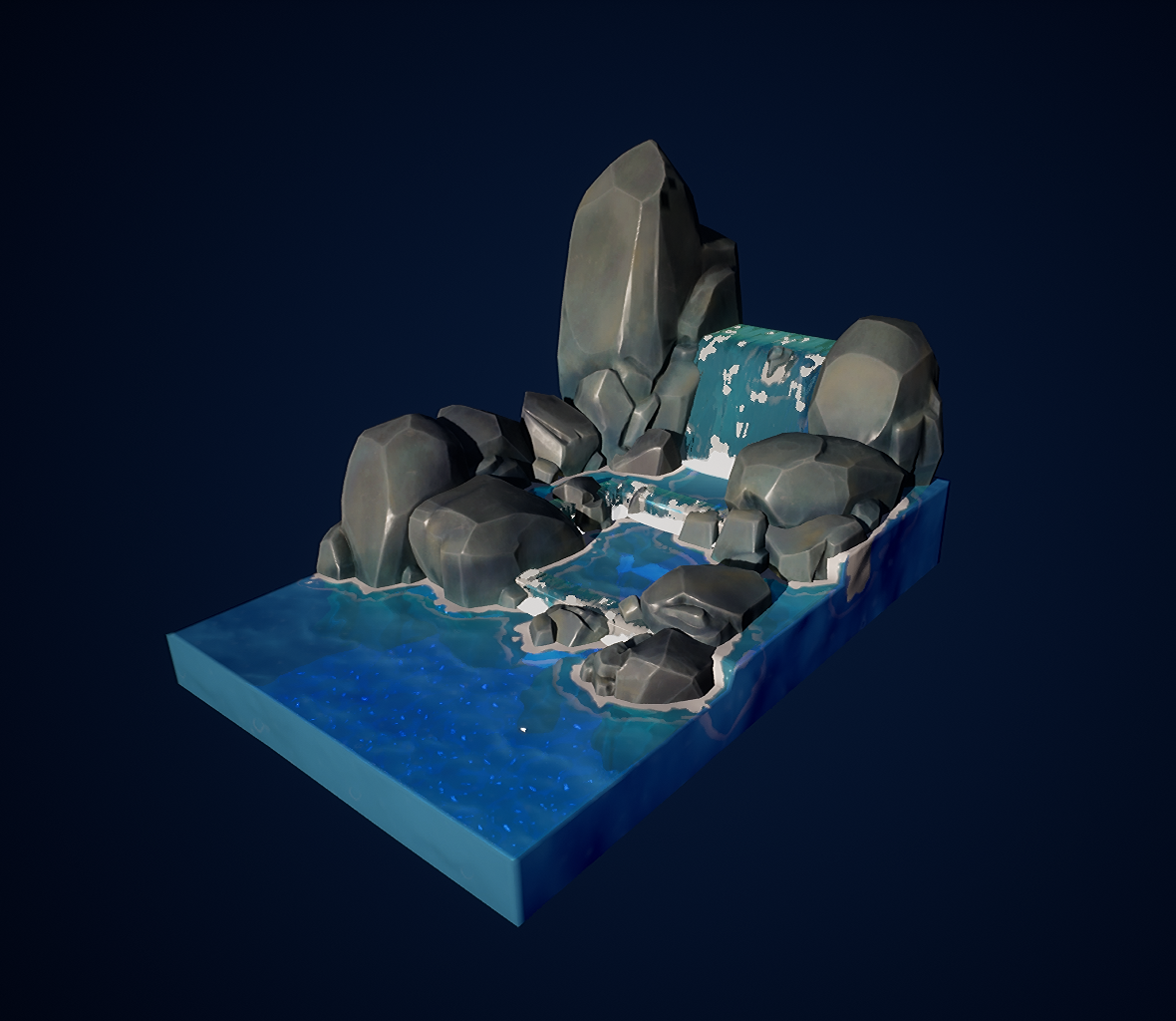 The water shader isn't perfect but I'm quite happy with the result after battling with school and then on my spare time trying to learn how to make a shader from the ground up. Piecing together a few tutorials (Mostly from PrismaticaDev, Joshua Weinberg and Rimaye) I cobbled together something I feel is stylized water. Currently I'm using the water falls from the cartoon water shader from the Unreal market that I want eventually change to be much more rapid looking (from the concept) as I'm slowly learning. Hopefully to also make the greenish/teal tint on top as the water moves....
But, overall not bad for not knowing how to do this 2 months ago.
It was a rats nest at first but I organized the shader making clearly readable now and knowing what everything does and is connected to.
All of this being a SingleLayerWater and combination of hand made textures, 1 material function that (doesn't show it) but allows the waves to sparkle (Thank you Joshua Weinberg for his breakdown on making that possible).
To end this update, I think I will only focus on getting the water done for now as juggling two projects plus college is a nightmare. I may go back and redo the textures a bit on my rocks as I'm not quite happy with them yet. Eventually I will be adding the moss and some additional foliage to this scene just to make it more alive (plus a cute animal, cause why not?) make it feel lived in.
Let me know what you think, I would love to hear your thoughts and appreciate any advice I'm given.