Hey there, I'm Jean Go, aka Curing!
AutoAttack Games is an independent game studio founded in 2014, developer of 
Legion TD 2
. Legion TD 2 is a 2v2 and 4v4 competitive tower defense for PC that just fully launched on 10/1.
Overview
- We are looking for a versatile concept/texture artist who can do concept art and texture art for the skins of our characters. You would be using an existing 3d model mesh and freshen it up with a new design, communicate it with me via concept art/sketch, then execute the design into a polished hand-painted texture.
- See the examples below to see what I mean by a new design while keeping the mesh --- it isn't just swapping out colors of your dress, but bringing a fresh look and fantasy for the character. There will be a lot of freedom when it comes to skin designs as long as the mesh doesn't need to change (sometimes VFX is applied afterward to enhance the thematic of the skins).
- For now, this would be a contracted position, but there is potential for full-time work in the future.
Examples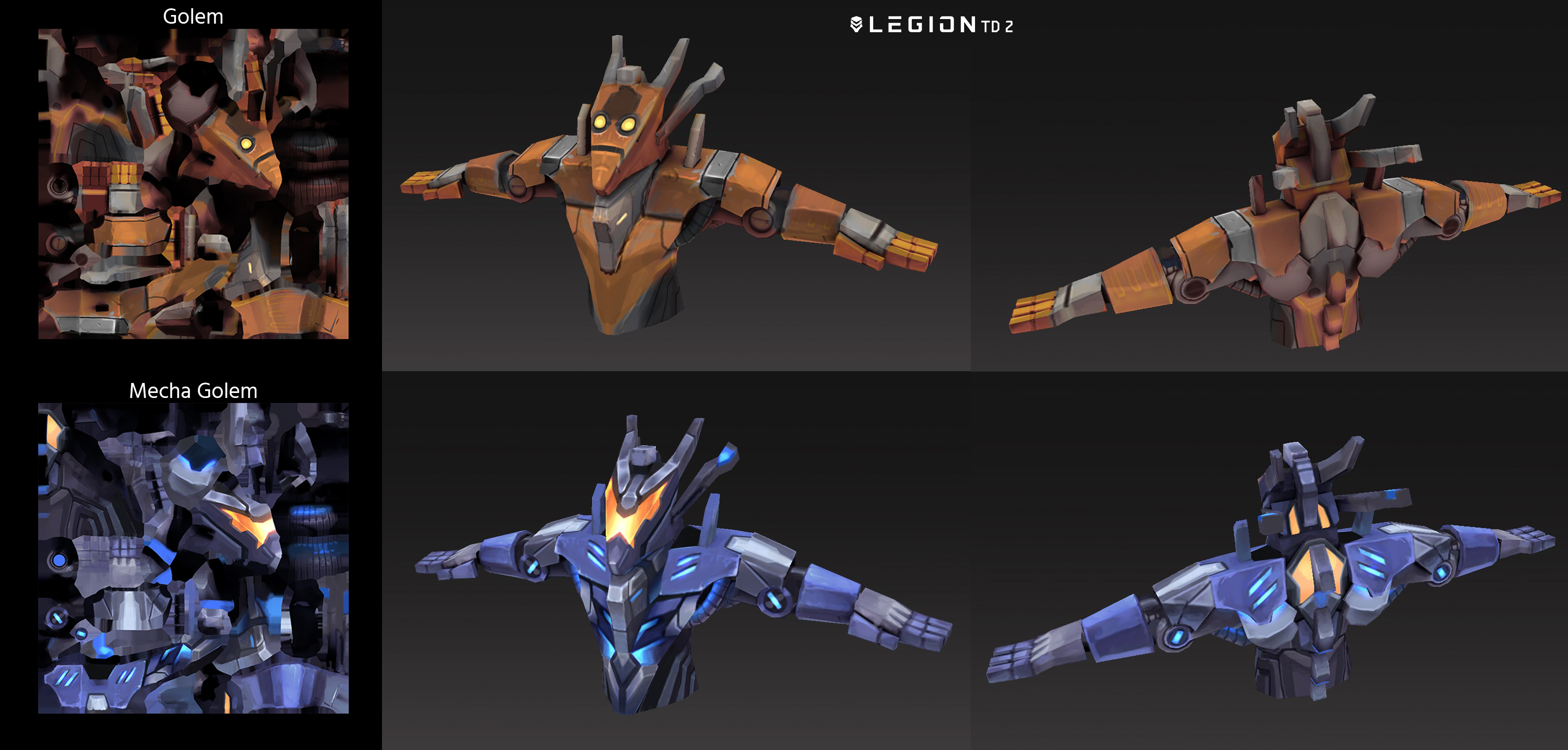 Perks
- Ability to put your work on your portfolio within ~2 weeks of completion
- Have your work be enjoyed by 100,000+ players from all over the world
- Work directly with and get feedback from former League of Legends devs
- Work on a wide range of characters, from a small cute animal to a badass sci-fi tank
- Interact with players/fans of a live, online game through social media, Discord, forums (if you want to)
Responsibilities
- Working directly with me (
Jean Go
) to execute the art vision for the game
- Coming up with a good design direction, communicating the vision to me, and then executing the design into the final product
Qualifications
- Proficient in character concept art design (good with shapes, colors, strong thematic ideas etc)
- Proficient in hand-painted 3D model texture style (value contrast, color temperature control, material painting etc)
- Previous experience working on 3D game characters
- You're a good person and nice to work with
- Professional working proficiency in English
- Good communication skills
Bonus Points
- Familiarity with Unity
- Played Legion TD 2, Legion TD, Squadron TD, or an autobattler (TFT, Auto Chess, Dota Underlords)
- Identify as a gamer
Apply by submitting below to 
[email protected]
1) An introduction
2) A portfolio of your work
3) Your rates per skin concept art & texture (concept art doesn't need to be polished as it will be just for internal use, but texture needs to be polished as the examples shown above)
Thanks for your time. Look forward to meeting you!