Hi everybody,
My first post on this forum. I am mid-level 3D artist. I have experience with props and environment assets but I'm considered new for characters. I could only work on my personal projects on characters for 1-2 years.  I can only work on detailed characters when I can find free time. That's why I don't have much experience. (I worked for a mobile game company) I started this project because I don't have any stylized game-ready character in my portfolio. My main goal is to make a piece which I can show my skills. Therefore, this project I want to show both my organic and hard surface skills. I planned to a humanoid male character and his mecha suit. At the end of this project, My goal is both character will be game ready modelled, textured, rigged. Then I want to animate them and put in Unity for rendering a short scene. 
Let me talk a little bit about characters I dreamed of and the features I thougt to be. The main character's name is "Dwock". 
Dwock is semi-dwarf. He lives far ahead from today. He is a cyborg and has mech pieces and a advanced mecha suit. He is member of a advanced miner community in the world. He travels interplanetary to fulfill their assigned tasks. Dwock has a few meele combat weapons and a small gun. 
The Mecha suit has heavy guns.
I inspired from "Love, Death, Robots- Suits" chapter for mecha suit combat and I loved Overwatch's art style. So, I aim to make it like Overwatch art style. Actually, I will try to mix Reinhardt-D.VA-Torbjorn. Let's start
Firstly, Let me show you the first version of the Dwock (It will be rework):
I did him a few mouths ago. Then, I decided to this project and start with his mecha suit. Normally, I wanted to share it step-by-step but I couldn't. 
High poly stage of this mecha suit is almost over but I'm glad to hear your feedback. If It's possible, I want to fixed any problems. I am sharing final high poly stage now but I will share old steps with other post then I want to share as I do the whole process.
Mecha Suit Final High-Poly stage: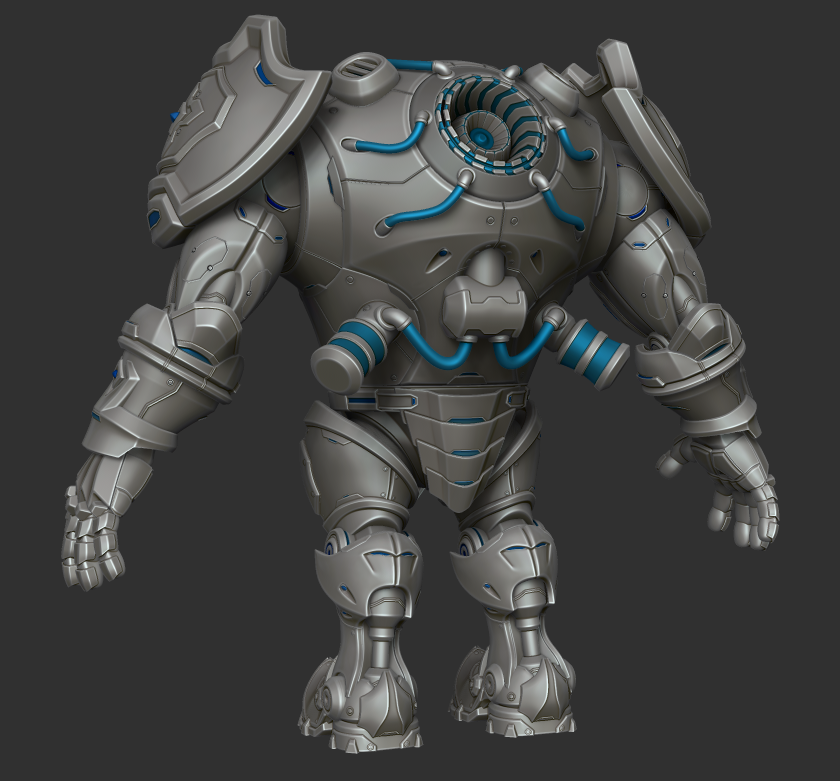 Cocpit is just blockout. I will do it after main character. Addionally, I will make heavy gun for suit.
I have no 2d drawing skills so, I did this from imagination and referances.