hey folks,
I am currently teaching myself in character rigging while working on an educational project. So far I've been following the official character rigging tutorial from the maya learning channel on youtube. See the list of videos included in the tutorial here.
Now it comes to the part where I want to create joints for my characters arm. As explained in the tutorial series, it is important to have proper local rotation axis for all joints in order to keep constraining and animating as simple as possible later on.
For the character model in the tutorial series it is quite simple to retain intuitive local rotation axis. As shown on the screenshot below, you can see that the x-axis is pointing down towards the next joint, the y-axis points down and the z-axis points straight to the back. This is good because rotating the first joint on the z-axis allows to rotate the arm down. Rotating the first joint along the y-axis makes it possible to rotate the arm forward. You get the point…
This is working fine, since the character is modeled in a pretty straight T-Pose. This leads me to my actual problem. As you may have guessed, the character I am trying to rig is modeled in a more relaxed pose.

When I try setting up the arm joints and their respective local rotation axis, I end up with a very complicated and unintuitive combination of axes looking something like this.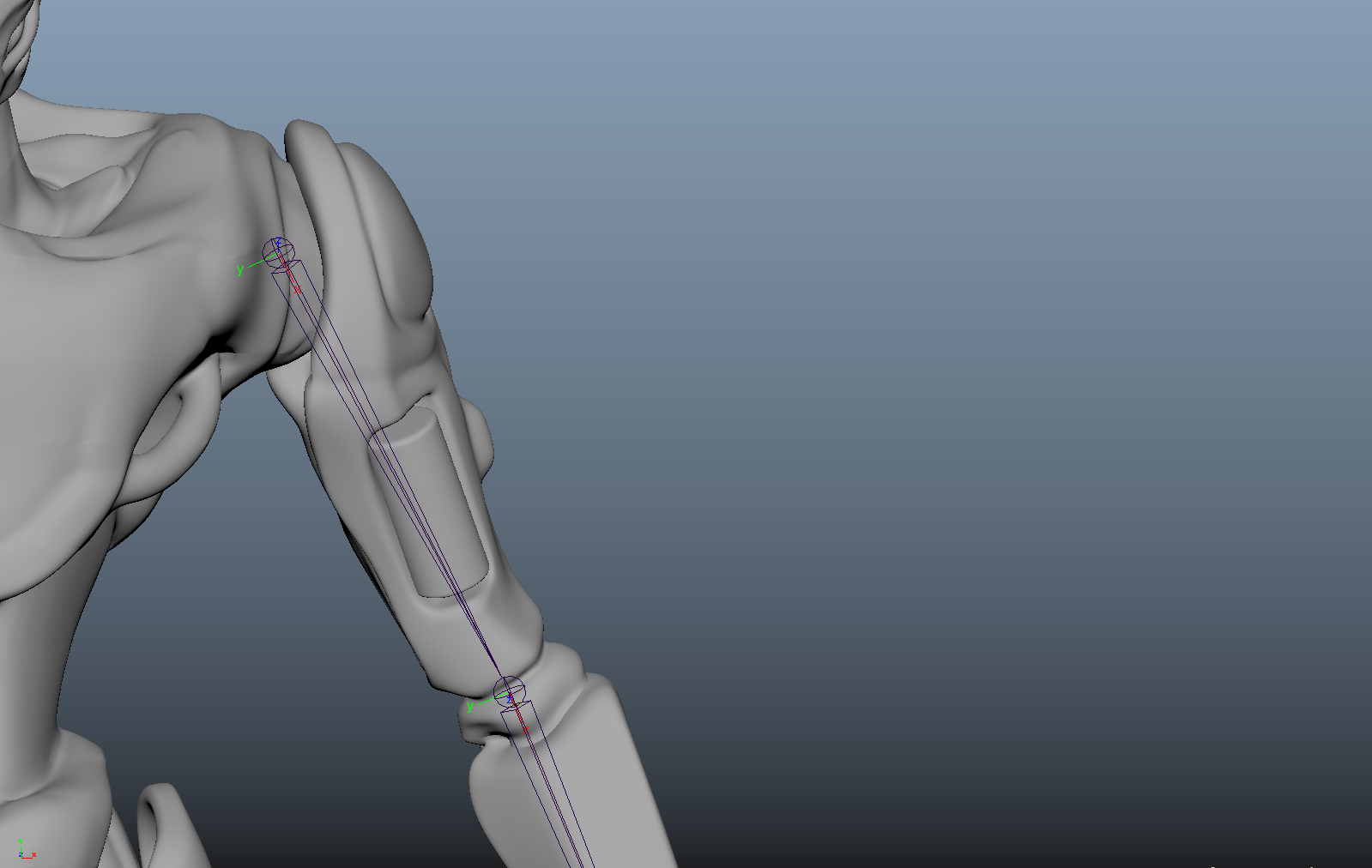 From this point on I am probably lacking of deeper knowledge and a better understanding of local rotation axis, rotation orders and the over all rigging process to come up with a fine solution and go on developing my arm's rig. I don't even know if these local rotation axis might be good for what I am trying to do, but it kind of feels just not right to set up a rig this way. That's why I am trying to find more answers here, since I couldn't find any related articles or posts yet.
When thinking of possible solutions or workarounds, the following points come into my mind:
Is it a common way to create rigs in a relaxed pose?
Is it possible to create the rig in T-Pose to avoid the problem and bind the model later on even if it is modeled in a relaxed pose?
Are there any bulletproof and commonly used techniques or solutions to my specific problem that I am just not aware of?
Please bear with me, I might just stand in the tub. But if you have any ideas or more know-how than me, I would really appreciate any piece of help. You can find my maya scene file in the attachments.
Thanks in advance!