Hey there Polycounters, it's been a while since I posted, altought I still sneak around watching some of the projects that go around, great stuff as always!
I am here to show you my next project and hopefully get some feedback
The ideia for this project came after I finished my Feudal Japan Challenge and it came as a way of developing my skills overall, but mainly to focus on the texturing side of it and make a single Prop or small diorama look nicely polished.
To achieve this I decided to pick a Concept Art I found on Artstation from AC: Origins (I always loved AC concepts), because not only it is a good challenge to improve my sculpting and texturing skills but also because I found out quite recently that I actually really love to create art that reasembles ancient stuff, there is something beatiful in recreating the worlds from our history!
This is the concept I picked, from the very talented
Erin Abeo
:
I decided to make the big boulder/rock because not only I am saturated of working with wood (I did work with a lot of wood in the Artstation challenge) but also because I really like the story it might tell (was this a special rock they found somewhere and even them at their time didn't knew what it was? Was it the beginning of it all? Who know)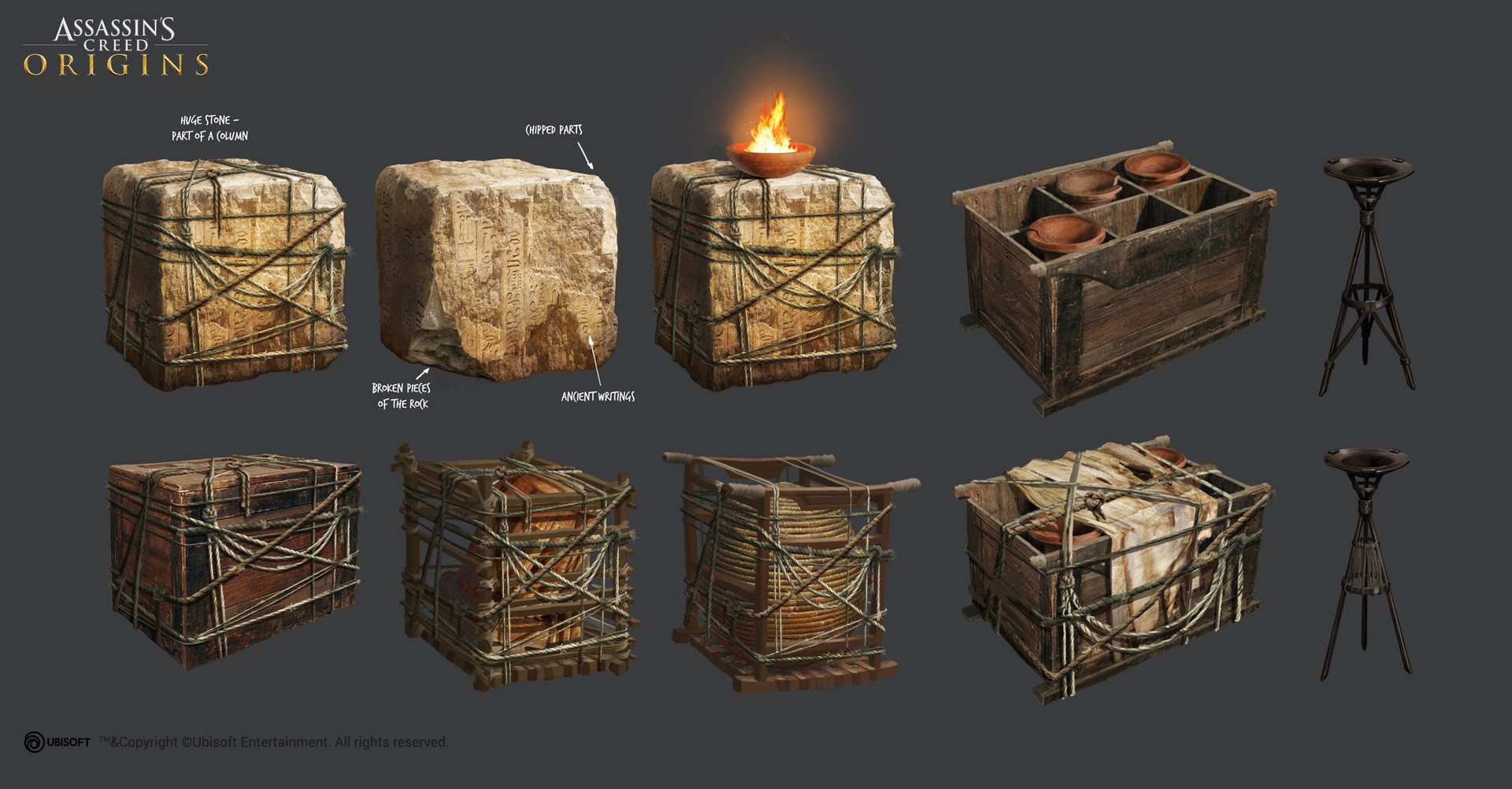 Here is what I have to show at the moment - High Poly - The Ropes are the ones from the Low Poly just added them in the HP to give some context. The Rock and creamic bowl were scultped in ZBrush using a really simple blockout exported from Maya):
Low Poly meshes inside of Maya. It is a little bit High Poly, but in this case since it is a portfolio piece I will not be bothering too much about optimization:
Low Poly with HighPoly bake and the Hieroglyphics applied, which were created in Illustrator and that were added in Painter by painting a mask in a fill layer:
Right now I am creating some Damaged rock procedurals inside of Substance Designer to later apply in the damaged areas to better fit the decay that is happening in the concept piece. I will probably also create some alphas to paint by hand and give further uniqueness to the asset.
Critiques and Feedback would be really appreciated, bring it on!