Hello.
For a while now I've been noticing a bug with the tangent space in bakers occasionally switching to Marmoset's tangent space. I don't know why, as the default tangent space in my setting is always Mikktspace, every time I create a brand new baker, it's a coin flip whether it sets it to Marmoset or Mikktspace. Every time I clone a baker, it appears to automatically switch to Marmoset. On top of that, occasionally it shows no tangent space at all, there's just no text next to the dropdown to indicate what it's using.
I haven't been able to figure out if it's just a visual bug, which I'm hoping it is. As I don't notice a normal map mis-match when I've accidentally baked in Marmoset and switch to Mikktspace on my objects.
Looking through about 20 different bakers, most of them don't show the tangent space at all, some of them are set to Marmoset, and only the most recent bakers I've created are Mikktspace because I manually set it. Even if it might not have any noticeable impact on appearance on my objects, it's still pretty disconcerting.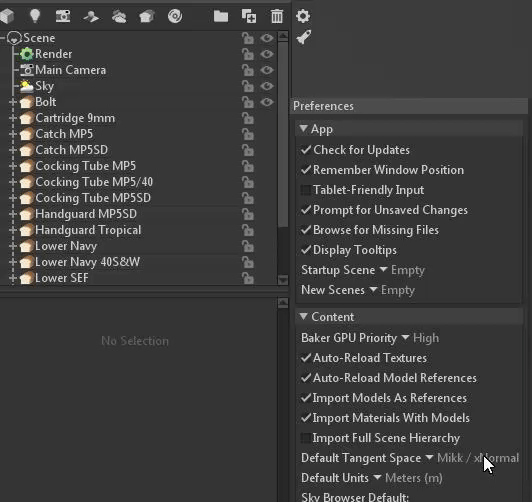 Also I'd like to suggest a extra option for a smoothed cage/averaged normals. From what I can tell painting skew in Marmoset makes the normals on each polygon be completely independent. Meaning if I have a cylinder with a low amount of sides and I have a skewed detail on that object, painting skew will make each and every side of the cylinder be completely hard edged/have a seam in the bake.
There are very few scenarios where an artist has too many soft edges/too big smoothing groups that would cause skewing details when a smooth cage isn't used. I think a skew paint option that just simply masks between a smooth cage bake and a non-smooth cage would be a far better option.
Here's one scenario.
Highpoly:
Lowpoly Baked:
Lowpoly without a smoothed cage:
Standard lowpoly with skew painted: