Hey everyone,

I hope you've been doing well! I keep lurking polycount to see the beautiful artwork on here and I love seeing things evolve. It has always been so cool to watch the process of other people in the industry. I recently started up a new scene, which is this snowy hillside forest scene with a frozen lake. It's been pretty hot here recently in Southern California, so it's a nice getaway for me lol

Currently the scene is still (Work in Progress) and it will continue to evolve as I get more into it and update/add more of the elements to it that I want. Throughout the process so far I have been documenting everything and creating a tutorial for you all to follow along with. You may have seen the "Forest Ground Tiling Texture Tutorial" that I posted up a while back. This is sort of a continuation to that one, where I bring it all into the Unreal Engine and start layering snow on top of it, as well as some snow clumps, ice, and now grass/trees.
Tutorial Download Link: "Forest Snow Ground"
https://www.artstation.com/artwork/o6E2q
I also created a simple breakdown of the steps to get the scene to where it is now for those of you that are interested. Definitely check it out below here if you can't get the tutorial right now, but of course I recommend the tutorial for the full experience if you want to learn more about Unreal and Substance Designer
Feedback Updates: 
http://www.facebook.com/purepolygons

Here's some images and a youtube video. I'll share the breakdown and PDF in the following post below this one. Thanks guys and I hope you enjoy it! Let me know if you have any questions
Youtube Video: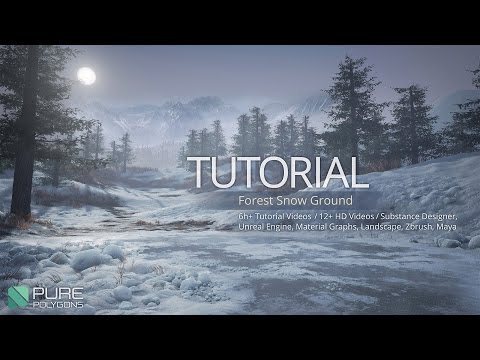 More Images: