(W.I.P)
I haven't gotten much so far, just a few images from Commander Keen 4 and sketches from myself of what I'm going to put in it and what the area may vaguely look like. I've also done a brief box layout, just as an example of how the diorama may be created.
I have come up with a vague design for the diorama, instead of recreating a level or section, I am creating a form of encampment for Keen at his ship. The screenshots below are of the area design of my diorama, I'm not yet too sure how to create the background, that's a problem for me to iron out when I'm next with my sketch book. The way I see it, I can create 1 of 3 backgrounds, underground, the trees or the trees with a house there.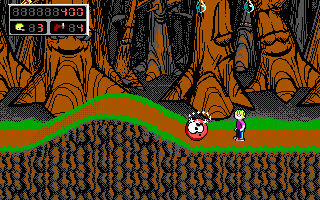 Next upload will contain coloured examples of what the diorama may look like, I'm happy that I've just made a small step. Please comment on how I can improve my planning to help with this project or a future one, or if I could do something better that I'm not thinking of with the Keen theme.