LAST UPDATE :
You can play the game for free by going to our
facebook page
and click on "play this game" on the banner.
I might share another link if people don't want to use facebook.
Of course this is fully VR compatible, so if you have an Oculus Rift have fun !
Here is a little gameplay video :
[ame]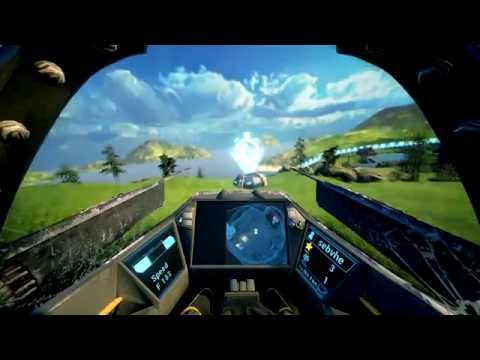 ---
Hey guys,
I decided to finally start something that was maturing in my mind for a while. I want to make an openworld VR race game.
The game consists of an open world island you could pace freely in a futuristic racing pod/spaceship (just like f-zero, wipeout or sw racer).
Whenever you get to specific points it starts a race that requires you to connect waypoints in order to make the lap(s).
This is the basic gameplay I "must" have.
On top of that I may add some features like AI, weapons, customisation ... That will depend on how well I am dealing with blueprints/basic gameplay.
The game will not only support the Oculus Rift, it will be designed for. Think this way, instead of making a regular game compatible with VR I'll be making a VR game compatible with regular monitors).
This induce a lot of things, in the gameplay, the level design, the content creation and overall optimisation.
I have a deadline for this, June 2015.
This thread will be mostly about art creation, since this is the field I'll get the most feedback here.
---
Constraints
---
I tried to list all the constraint I may encounter (and I'm certainly missing most of them) :
- I need to run at 75fps in stereoscopy, this will require A LOT of optimisation and concessions on the content.
- normalmaps behave very badly in VR (they look extremely fake, especially when the object is close and parallax between your eyes becomes more obvious). This will require dense geometry and/or parallax mapping, at least for LOD0-1.
- How to deal with foliage shading ? For now it sucks pretty badly in UE4 from what I've heard (hopefully this will get fixed in time). Since I mainly worked with UE3 and only tried UE4 for a few hours (I'll purchase it in the upcoming days) I'd gladly make this in CryEngine but I need Blueprint coding to make a game, I'm no programmer. also, VR is a pain in CryEngine right now.
- How to deal with instances/drawcall ? This is not my first huge map but I mainly made maps for my portfolio, thus according much more importance to the eye-candy than optimisation.
I'm an environment artist, or at least it is what I want to apply for and most of my work will be about environment. But I will face fields I don't know much and I take this as an opportunity to improve a lot of other skills than pure environment art.
These are all the skills I expect to learn at least a bit from this project.
- My concepting skills, if reproducing a concept in 3d is fairly easy, inventing your own ship, pilot and overall background is something I never experienced.
- My 2D skills, even if it's not a "kill me right now" level, it may be my weakest point as an artist.
- Gameplay, level design and coding, let's face it those fields are completly obscure to me.
- PBR and UE4, I almost never experienced those (was still using UDK last month).
- Hardsurface, I'm mostly about organic stuff, I almost never did any HS stuff.
- Character creation, I made one game ready character ... almost two years ago.
-maybe this thread will improve my english too.
Still this will be a lot of fun I'm sure, and a huge challenge for me.
---
So let's get our hands dirty, I started designing basic silhouettes for my ship. I must admit I have about no knowledge in Sci-Fi design, this is something that never really piqued my curiosity before, every feedbacks, references, links will be most welcomed.
All my ships have their engine ahead of the cockpit, this is something I decided even before starting concepting. I want the player to have a visual feedback (and not only HUD feedback) of their engines burning or beeing damaged.
I think I'll be going for a mix between 6-7-10 and 12. They seem to be the most intersting shapes so far.
As for the character I already made 5 attempts at a basic idea.
An armour like B doesn't work at all, I'm making a pilot, not a warrior, I think I'll go for something really light for the suit. I especially like C and D, the idea is to have the character really plugged into the seat by tubes.
On side note, on the D character I added a harness (I think it's called like that), I really like it (reminds me of Luke pilot) however I have no idea what it's purpose is, can someone help me out in my ignorence here ?
I also already started working on the landscape, as said before it will be an island, the map (including underwater areas) will be 16km² (4km x 4km) - 6.18mi²/3953 acres or I don't know what other fancy units you americans use -
I made a first pass in WorldMachine, that will soon be tweaked.
Since I will work alone, I'm hugely relying on your feedback to improve this project !
Much more to come soon !
- OK, going to buy UE4 now -