UPDATE:
Greetings All,
Per everyone's suggestions, I did register a new domain name for my portfolio. I also picked up the matching g-mail account to use as an contact point.
My new portfolio can be found at:
www.artbykeith.com
In addition to the new domain, I updated the layout and some of the content. I added navigation at the bottom of the pages so you did not have to scroll all the way up to go back, and I also updated my resume slightly, and added links to Linkedin and such.
I would still love some comments/crits on what I could be doing better. Key area's I would appreciate some feed back would be ease of use/navigation, layout and load times.
I would also love some feed back on what people thoughts are on which is my strongest/weakest piece are.
Thanks again!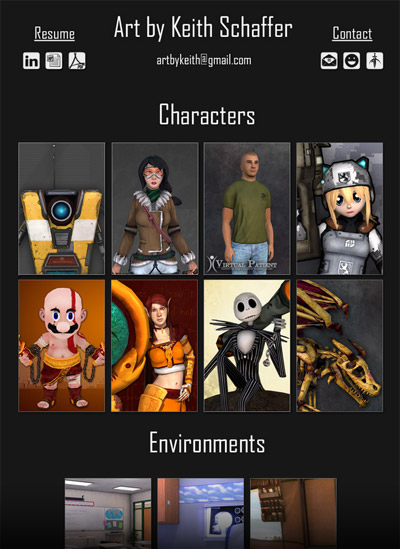 OLD:
Greetings All,
I just finished updating my website layout and would love a few pairs of fresh eyes to take a look and give me some feedback.
Things I'm most interested in getting critiques would be: layout and presentation; ease of use; strongest weakest piece; and lastly, what should I be adding.
Thanks!
www.YdoUwant2know.com