hey there PC
Decided I needed to abandon my generalized WIP thread and create a thread with more focus to possibly get more feedback.
If you don't want to read my entire post, scan the orange text for summary :P.
At the time of posting, the most recent progress can be seen at the bottom if you'd like to just skip to it. This thread will basically be the journey of me getting to final product, so this original post is just recounting my progress.
I'm a huge Legend of Zelda fan, and i've always wanted to work on Link...I'm finally embarking on that journey and I'm also using him as the first piece to update my portfolio
http://www.threenineart.com
to my new established skill and style. My portfolio, looking at it, just feels rushed and doesn't accurately represent the full quality I am capable of; so let's get started with my progress
This is only a VERY small portion of the art I have gathered for creating Link (I probably have over 100-200 images of fan-art and official art for Link)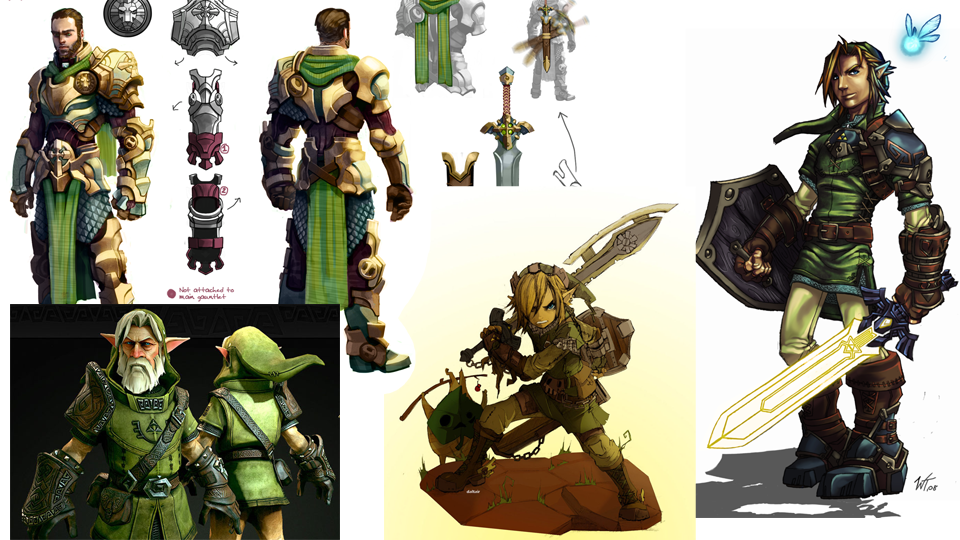 Started out with some basic sketches to help establish the direction I wanted to go. In creating this project, I intended to design
Link as if he was in his mid to late 20's
I didn't want to just make Link, I wanted to redesign him completely but still keep his essence
...Everyone has seen old man Link, and it's an absolute fantastic design...I love what the original artist did with him, so I decided to rip the shape of the tunic and just go from there...my focus was looking at the design of
Skyward Sword and Twilight Princess
and taking all the inspiration I found and applying it to my design
Ultimately
I wanted to create a bit of "realism" to him as far as design is concerned, in a very generalized way Assassins Creed creates their characters and how all their equipment is visible and sheathed somewhere.
There is a ruggedness and air about Ezio and the others that just clearly reads they are
ready for battle and geared for it
I wanted to emulate that sense with a
second variation of upgraded armor
that would be on a
separate texture sheet
, but ultimately decided that what I designed at that point just seemed a bit too much and didn't fit. I did, however, love my concept of redesigning the
Razer Sword as a dagger
, and to have that as an additional weapon on his hip.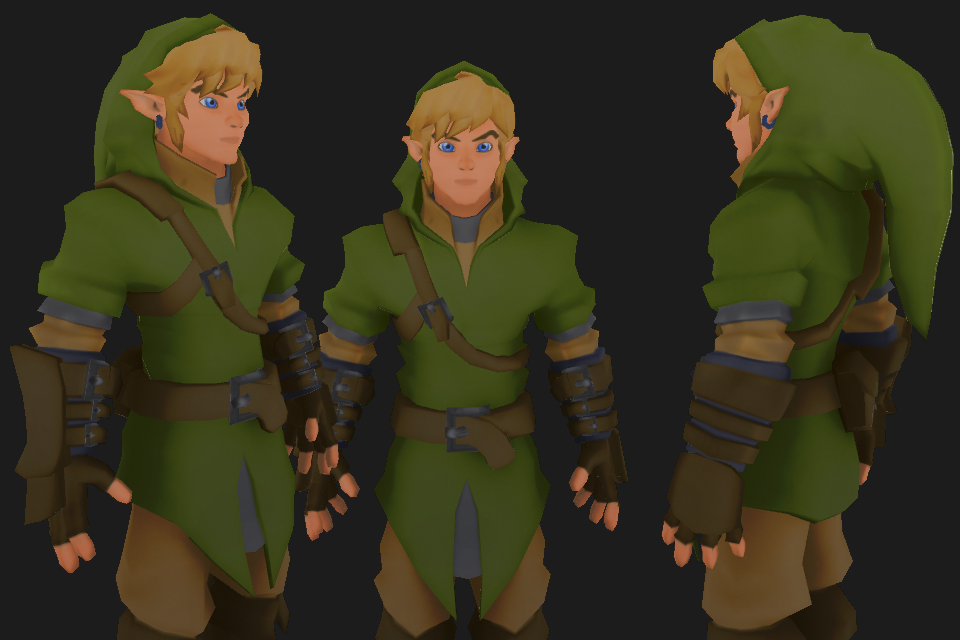 Normally when I texture handpainted, I rely solely on my own brush strokes and haven't really involved AO bakes or any kind of vertical gradient to my process, and I saw this as a chance to experiment. Through two different types of AO Layers and an additional two different layer types of my Gradient, this was the result
, and I was really pleased with how it helped in getting to my current point.
Later I ended up also baking down some lighting, but it affected my model in unpleasant ways...I may redo it, or try and implement that layer ontop of the final texture when he's done.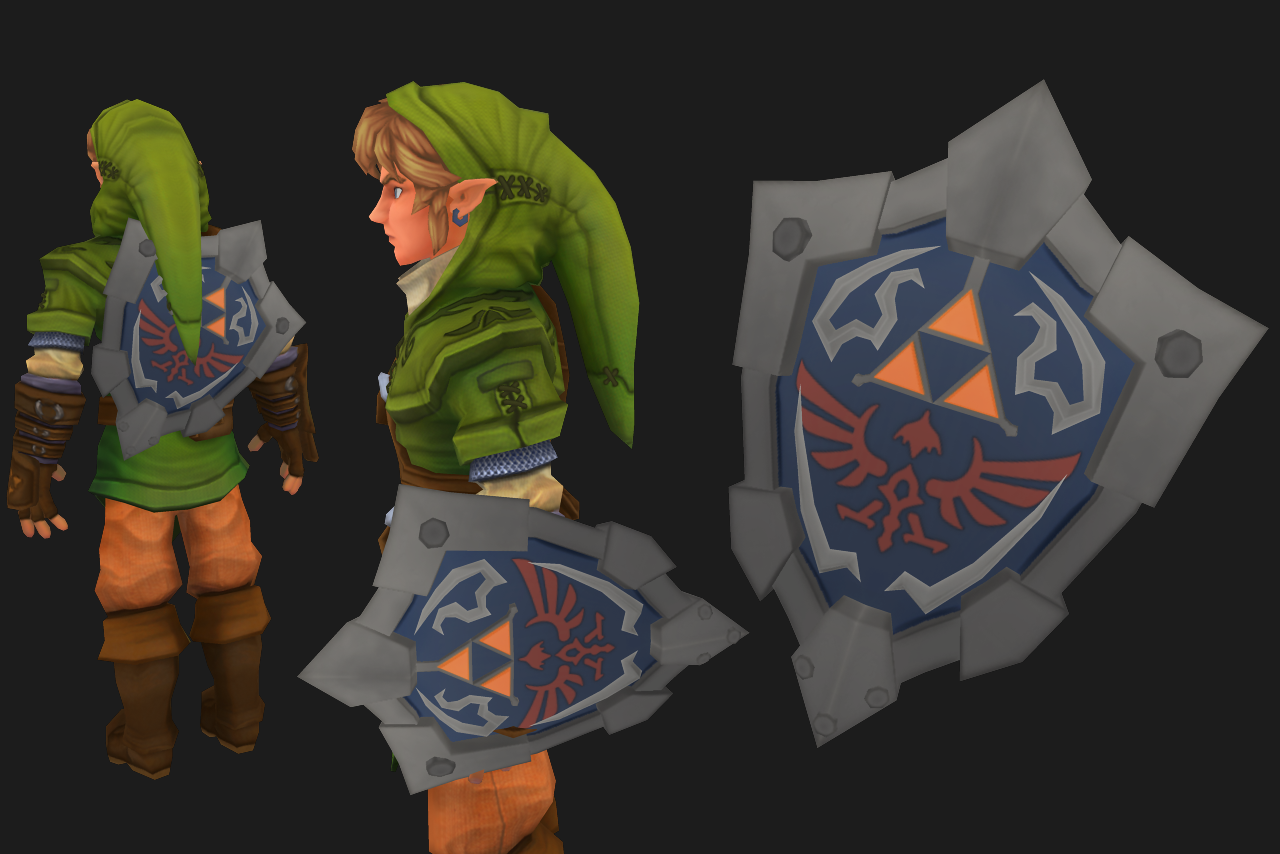 Using the same process of layer types and my approach to texturing, is the current progress of my Hylian Shield.
It is not done
either, but definitely happy with the direction.
Lighting and bringing life to my work is something I personally feel like my portfolio suffers from, so it's fun challenging myself to work on all these different materials.
I'm going to go back and add some blues greens and reds to the metalwork a bit and help give it some variation...Something I really appreciate about the first render of the shield, is the sheer darkness and feel to it that I think blends with the character well, but obviously it's metal and needs to shine. I think by lower the highlights a little bit and then going back and add some hot shines on the metal to make it really pop with polish will help achieve the look I desire...after that I'll add some battle scratches and evident use to it.
I want it to appear used, yet not damaged
from battle. I think the blue paint could also use a focused area of light to it, but still no where near as glossy as the metal.
This is also the current progress of Link and the shield together.
While there are still a few things to him I need to go back and do
, like polishing the seams of his pants, adding more hightlights and lighting to his leather and clothes, and also making a second pass on his hair,
he is "essentially" done
. I think it's important to note that, while I am doing a hand-painted piece with lighting and shadows baked down, I do intend,
for the final product, to have a lit render with specular map for a very polished piece
.