I am currently looking for a team to make an Environment portfolio piece with two (or more) characters.
This is my take of the kind of Environment I would be happy to make.
I am very happy to do something that the rest of the team is happy to make. A concept artist in the team to design the assets, characters and perspective shots would be ideal. A character modeler. And last an addition of another 3d Environment Modeller.
The setting I want to make, its the Towers of Kozel.
Kozel is a dead witch that used to be a wealthy all powerful Lady-Lord that used to live in this castle with many towers looking at every corner of her massive land. When she became old she then became obsessed in retain her youth by captivating young teenagers from her farmers, cutting their wrists and bathing in their blood. With the years she became more sickly in her ways of torturing in different ways and forms, always looking to regain youth. With her years however she became insane with a never ending with no rest to find a way to live for ever and young.
After Kozel died, with no kids or no one wanting to be part of her sinister past, eerie shadows lurk in this abandoned castle, haunted by her and haunted guards that still capture teenagers for her.
The escape scenario happens when Sofia (name in construction) is captured in one of the tallest tower. She manages to break out of the room, but in every hall they are haunted guards equipped with an eerie armour that symbolizes goats. The meaning behind Kozel.
The scenario is very similar to Ico, when the boy has to escape with Yorda from her evil mother out of the castle. Its the same feeling I want to capture, escaping from an evil witch/queen in a haunted castle.
The style and architecture of the castle is open, but I would like the castle to be set in a fantasy world. And heavily influenced by designs of goats as statues decorating the walls and furniture. (the meaning behind Kozel)
The armor could be similar to the designs seen in FF12 of the judges.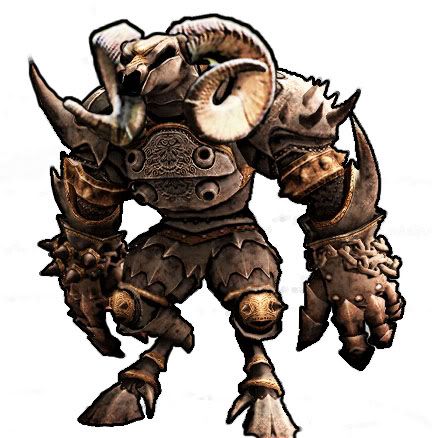 The haunted guards that have the goat inspired armour is a similar take to the Zelda Phantom Hourglass dungeons (and in the Spirit world of Skyward Sword), where if the guards see you, run after you and you have to find a safe spot for them to stop running after you.
It seems like a very broad and incredibly ambitious project, but it does not need to be. The beauty shots can all be part of a hall in the abandoned castle with an open balcony with a view of other towers in this castle where the girl is hiding or running away by this guards. All this is to create a thoughtful brief to add details in the spots later.
If anyone volunteers to be part of this project, I am more than happy to make any chances to the brief of the project to their content as long it does not change something major as changing the setting from a Fantasy setting to Sci.
The ideal team for this project would be to have:
-
A character modeler to model the main character and the haunted guards.
A concept artist/texture artist to come up with the designs of the modular pieces. Perspective shots and character designs.
A 3D zbrush sculpter (me and someone else) that can do high poly sculpting, retopoly and then baking into normals.
The team/project is not limited by who can join or who does not join.
I am a trade of all jacks with a strong interest in focusing in Environment modelling for games. But I am very happy to do
any
part of the project. However I am not very experienced doing character modelling, I would be happy to enter in that area to self teach to make some character modelling and rigging if there is a strong need.
I do not want to leave this project vulnerable if no one is interested to join. So if that is the case I will then undertake the project alone to make a environment based on a room of this abandoned castle, described earlier at *It seems like a very ambitious project...* with no characters.
I would like the project to be made in either Unity or UDK, entirely up to the team. If there is no team then I'll choose UDK. But I am incredibly confident and capable in using Unity.
Anyone is welcome as long they have some experience doing game art and as long as they are exited for the project. Of course if many volunteer, the team can only be up to 5 and I would pick someone that has a portfolio that I would be happy to stick due to his/her style or workflow.
All images belong to the respective owners, And they are only used to captivate the principle and ideas behind this brief and project.
Next step, if no volunteers pop up, its to make siluettes and sketches of the perspective and isometric shots of the chosen hallway from the abandoned castle. Time is ticking and I am going to live a window of opportunity of 48 hours or so until I start with the project alone, however! Anyone can step in any time as long its not too late.
To anyone curious, my website is:
http://www.pacocasares.com/blog/
And video reel from university:
http://youtu.be/I3j9-GPN7Gg?t=50s
I have skiped to the game project we did at university, and the environment I did for my assignment.
Sorry for the long and massive post.