MAXScriptManager
is a 3dsMax script that will will help users and developers get/push their scripts easily. It will hopefully streamline the process of downloading, updating and installing scripts.
I've been working on this for quite a while, but only recently have I had to focus on it. The script is not released yet, since I still need to do finish some stuff and create installers, I'm however eager to push this out the door as soon as possible.
I'm going to leave two videos here for now and a list of features:
Install scripts packed in MZP files by just double clicking on them from Windows Explorer.
Right click mzp, ms, mse and mcr files to get additional options such as installing script with a specific 3dsMax version. (MSM will need to be installed in the other versions as well)
Manage installed scripts.
Browse repositories for scripts.
(Developers or websites such as ScriptSpot will have to create these repositories. Essentially they are just a text file with all necessary information such as download links to the scripts, version number and so on. I will create a tool myself in order to quickly create a repository and add and delete files.)
Directly contact script authors from MAXScriptManager, Follow them on Twitter, share the script through Facebook, visit their website and even donate!
Automatic update check on 3dsMax startup.
Option to automatically apply updates if found.
View script changelists.
When installing ms, mse or mcr files a button will be automatically added to the MainToolbar. (No need to hunt the script down under the Customize User Interface window )
MagicClipboard (More on this later)
[ame]
[ame]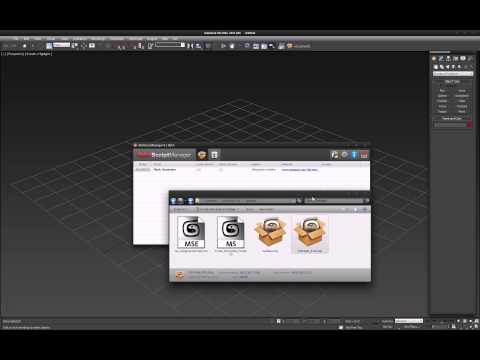 Now the more "technical" stuff for you developers out there:
As you may now, the whole script installing thing is a pain in the ass for developers and users. Here are just a couple of problems I have identified and I believe I'm tackling with this script.
Users getting MZP files and not knowing what to do with them.
Sometimes MZP files are renamed to ZIP files.
Users not knowing if an update is available for their scripts. They either find themselves hunting down updates in forums or just sticking with a very old version.
Users don't know exactly how to contact authors in order to report bugs. Developers don't get enough information, such as 3dsMax version, windows version and so on.
Statistics for developers. (I will add this later on)
Users don't know how to uninstall a script.
Users don't know how or where to find your script in order to add it to the toolbar.
I have tackled all of these problems, but some of them require your scripts to be packed in MZP files as well as proper install / uninstall scripts.
In order for your script to benefit from MAXScriptManager's features you will need to have a repository and some lines of code added to your install / uninstall scripts. Do not worry, your script will install and work just fine even if MSM is not installed on the users PC.
I will provide proper documentation for you guys once I release it.
Until then, I'd appreciate some feedback, ideas and suggestions. Personally I believe it has a lot of potential and there a lot of exciting features that could make this even better