Good day everyone,
so, I'm not that new to 3D modeling and 3dsmax, but some questions arose while following along a rather non-enlightening tutorial about modeling an Ingram Mac10 (random part:
http://www.youtube.com/watch?v=MkAKJsEIKFU

It includes some holes and bevels and especially when creating those, the instructor is throwing n-gons wherever they fit for sake of a clean mesh as he says. As I learned it, "a clean" mesh is considered one nicely and evenly constructed of quads. Of course just not caring about this makes modeling a bit easier.
Now how important is this really? Does it suffice to just care about quads when one might want to bevel an edge later on or animate (/deform) the model?
Triangles would not be any better than n-gons in this regard, right?
What is considered the "professional way"?
Another big question is about circular holes. Instead of just jamming some splines together and convert them to poly, which results in nicely round circular holes, but also in many ngons - I tried to aim for better topology.
This is what I came up with and similar to other approaches I have seen concerning circular holes. The top one - the lower ones show a different approach.
Both ways however bring a certain issue with them:
Chamfering the holes' edges does not yield good results - is a turbosmooth the only hope?
Could maybe smoothing groups get it to look somewhat better. I know that for the actual contour the hole would need more vertices to its edge.
I have seen this way: [ame="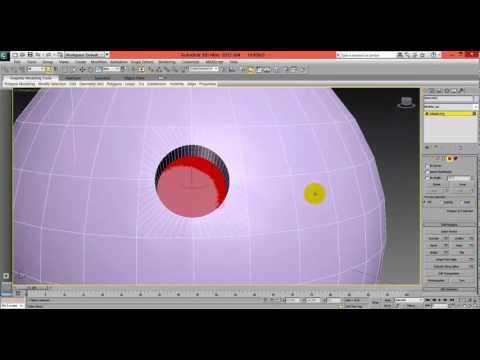 http://www.youtube.com/watch?v=KfTsFEWbQyY"]Circular
holes in 3ds max without turbo smooth - YouTube[/ame]
But it's based on n-gons again.
What is your way/a proven way to go about those holes?
Also, there's some smoothing issue on the backside of the top hole's area - why could that be?
I'd be glad if someone could share his or her knowledge about these matters!
Thank you for reading.