~

(NOTE: I wrote this to help some students I know and some PC friends mentioned posting it on here to help out the early learning community. Feel FREE to dive in and we can start a fresh discussion on the age old face-topology subject
)
---
Students seem to often find face topology so alien and hard to learn so I decided to just label out the basics of what I found to be useful rules when learning to get functioning topology that can deform well, and helps sell the forms correctly. So if you find this helpful thats great, because I sure wish somebody taught me this shit when I was learning instead of just sending me a link to a super dense wire-frame of a well known game character and saying "Do it like this. This is good" etc. On that note; less talking more images.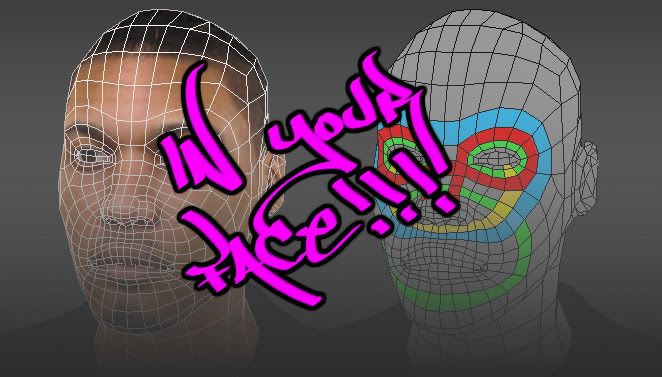 The method I use to make heads is edge modelling instead of starting with a box. Which is essentially where you start with a plane and extrude out from it sequentially, but whatever method you use is up to you. This post is just to talk about why I put my loops where I do etc. If none of this makes any sense whatsoever that's fine. Just be a piano instructor or a stuntman instead.
~ Essentially, I almost always start modelling from the eyes outward, with loops around the eyes keeping roughly the same number of polygons on the top as the bottom. Although if there were more polygons on the bottom by a little, then this would usually be okay.
~ I would also make sure there is a loop running across the nose around the cheek and then through the chin. This is helps deformation when smiling or frowning as these parts all move as a family of shapes when animated.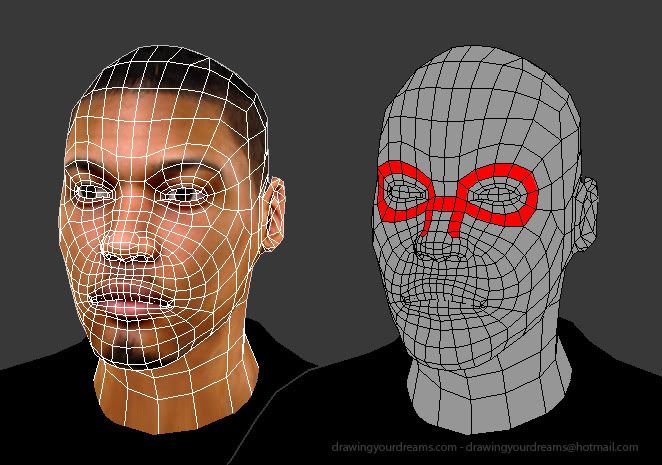 ~ A common mistake I often see is to make the eye loops just radiate outward on and on. This is a bad thing for various reasons that I'm far too lazy to explain. Anyway, to stop this I would run a loop from the top of the nose across the top of the cheekbone up around the brow and down the nose again.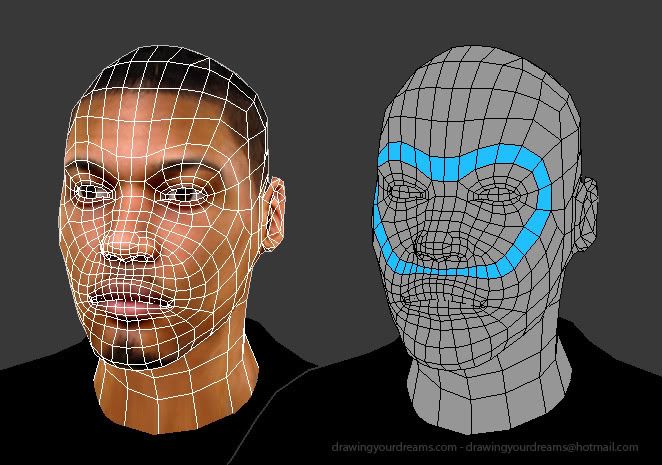 ~ Another result of stopping the eyeloops from radiating outward forever is a frame that goes across the forehead and down under the nose. Sometimes I do run the loop across the middle of the nose instead of under the nostrils but the theory of framing the loops is still the same in both methods.
~ I also find that if I don't have a line of polygons that run from the outer bottom eyelid towards the general direction of the nose (or under the nose in this case) then its very hard to change directions of other flow lines so I always try to make sure its there.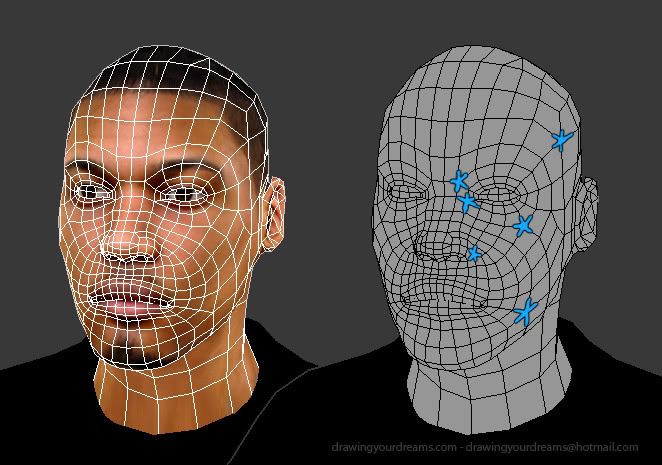 ~ Ideally you want to have next to no triangles on a face mesh because they just don't deform well at all under animation. Changing directions of flowlines without creating triangles is a bitch to learn, but it's pretty straight forward once you understand the power of 5poles. A 5pole is where 5 edges splay out from a vert to create a group of polygons that allow change of direction. I've labelled where I usually put my 5poles. They are usually a slight hindrance to animation but not as destructive as triangles, so placing them in the correct places is very important to learn.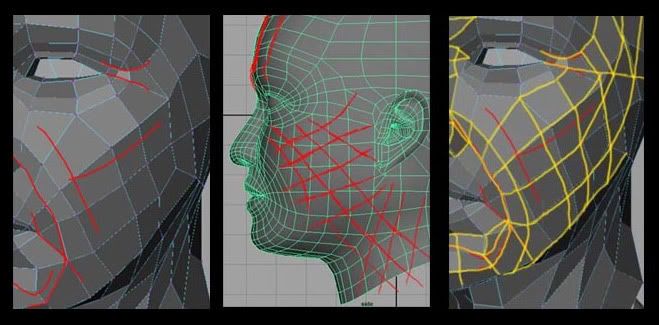 Above is a picture of the real mistake in not using 5poles. Faces become a flow of quads that just flow back across the side of the face without following any real facial contours or bone structure. Don't let this happen. It's bad and will cause polar bears with chainsaws for arms to break into your house and attack you.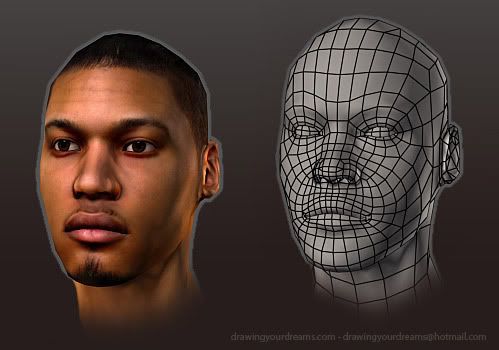 ~ Make sure all your flow lines are smooth and fairly evenly spaced. If areas get suddenly dense or sparse it will look horrific when shaded or have odd spots on it when textured, so remembering to keep the edge flow smooth is pretty important. Starting with a fairly low amount polygons and then making it denser later makes topology a lot easier to control. Unless of course you don't like control; in which case you should start with hundreds of tiny polygons and you can bathe in your own frustration and masochistic ecstasy as it becomes more than you can handle.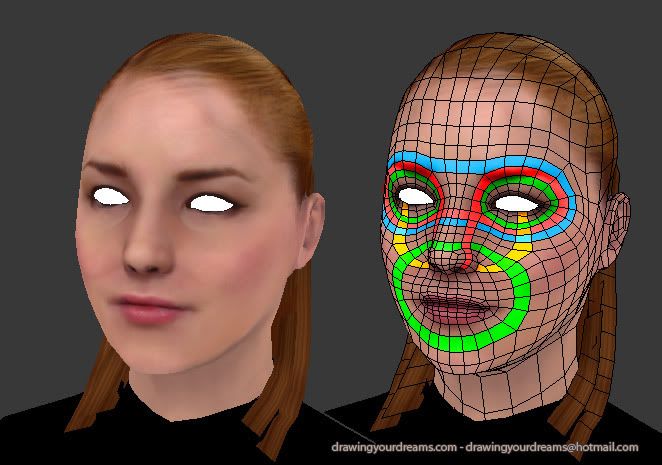 This is an example of another head I made that's much denser in polygons. It doesn't exactly follow all the lines I just explained perfectly but are close enough for you to see the relationships are the same. High or low polycounts really don't effect the basics very much, just make sure your lines are clean and purposeful and to check your mesh in all views (especially 3/4 view that's the reeeeally important one when your near completion).
I'm going to ask others to continue to jump in so we can split this topic apart. I'm new to the industry and still learning too so I expect a wall of theories bouncing around!!!