I suppose I need to try to get in on this. Contest happened to land on the busiest month of the year for me so far. I'm not at all familiar with Unreal Tournament, have never played a game and information on the game's lore and universe seems...sparse and a little all over the place? Since we're not designing levels and the "theme" seems to be the main criteria to focus on, not knowing what fit was at first fairly burdensome.
But I tried to do some research and from what I can make out - arena based shooter, pew pew, stuff about space and different factions/races trying to kill each other because why the hell not. Saw screenshots of everything from high tech ruins to asian-esque temples to space stations with planets visible in the background. Mulled it over for a while and figured I'm just going to try to expand my horizons and have some fun; if it fits it fits if not well I'll hopefully have done something that made me happy. Wanted to get a thread started so I can post the crappy early stuff.
First sloppy idea to get the juices flowing, natural/mechanical spire type things on a planet with significant lightning activity in the atmosphere. Spire facilities designed to harvest said lightning as an energy source for...stuff that probably glows and moves a bit. Fighting takes place atop one such structure.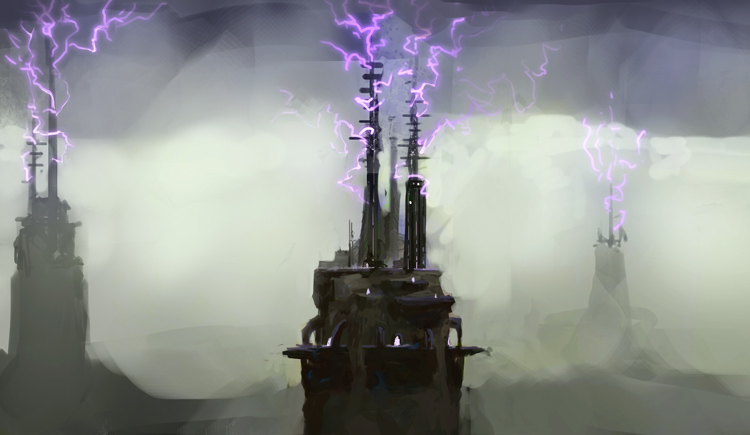 Next will be trying to figure out a proper composition for a better, closer, more fleshed out version I suppose. Fairly unfamiliar with larger scale environment stuff.