Hi,
for a long time I ask myself some questions about: Why sometimes the brain is a bit stupid and sometimes very smart while looking at computer generated graphics. Maybe you guys have knowledge about the psychology of perception and can help me out with some search-words for Google.
EXAMPLE #1
http://10-themes.com/362191.html
When I started gaming most games where pixelated BUT as a child I did NOT even notice. I accepted the pictures beautiful images and didn't bother about the technical limitations. But...why? Shouldn't my brain have told me that I look at very blocky graphic which doesn't look "good"?
EXAMPLE #2
https://pbs.twimg.com/media/B9PWZnqIUAEt3Rq.jpg:large
The text in the lower right corner says "Almost in-distinguishable from reality ...", what? I mean for 1984 this is great graphic BUT you only have to look out of the window to see that there's A LOT difference from reality.
I mean we all know this: We look at every gaming-revolution and think "THIS IS PHOTOREALISTIC!!!!1111" and some years later we scratch our heads and can't believe that we liked this low-poly-blurry-texture-stuff from the past.
Why does it seem that the brain "turns off" when it looks at a screen and accepts way more stuff as "looking good" or "photorealistic" than it should? Does technical enthusiasm make us blind?
EXAMPLE #3
http://static02.mediaite.com/themarysue/uploads/2015/12/195121.png
I'm wondering why it's totally OK for the brain to have totally different styles within one image. Here for example we've wonderful painted backgrounds while the characters are reduced to be able to animate them. But why doesn't my brain say that there is a collision between the styles?
EXAMPLE #4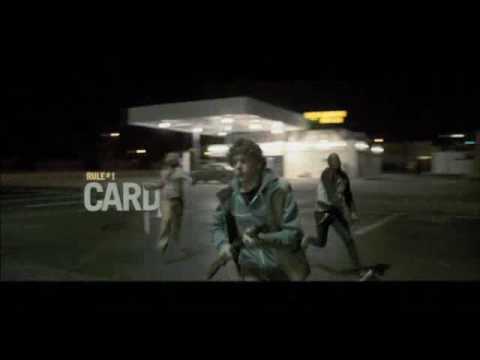 This is really interesting: Not only that there are letters put directly into the movie-world, no, the Zombie even collides with one! But still, my brain is perfectly able to "see" that these letters are more like a nice graphic effect and no one put "real" paper-letters into the world of the movie. But why am I able to abstract this?
I hope you get what I'm asking myself and maybe some of you guys also had such questions or even better: Answers
Have nice day!
Simon